Audiology & SLP combined practices need an all-in-one solution. There is simply too much to be done to waste valuable time and resources on redundant processes. Here's a look at TIMS added SLP features that unify your business procedures with an all-in-one solution.
Let's Start at the Beginning...
1. TIMS users can choose between an Audiology or SLP appointment and from that point forward, relevant functionality is seamlessly displayed as the user moves throughout different areas of TIMS.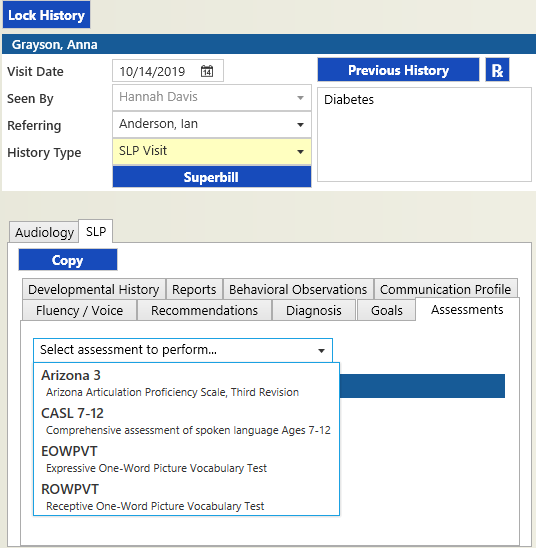 Choose between an Audiology or SLP visit in "History Type." Assessment scores can easily be entered manually.
2. Templates for entering routine notes such as SOAP notes can be easily created to save time. Chart notes for audiology and progress notes for SLP can be effortlessly incorporated into customized reports and emailed or faxed directly from TIMS.
3. SLP visit details include Fluency/Voice, Recommendations, Diagnosis, Goals, Assessments Scores, Developmental History, Behavioral Observations, and Communication Profile.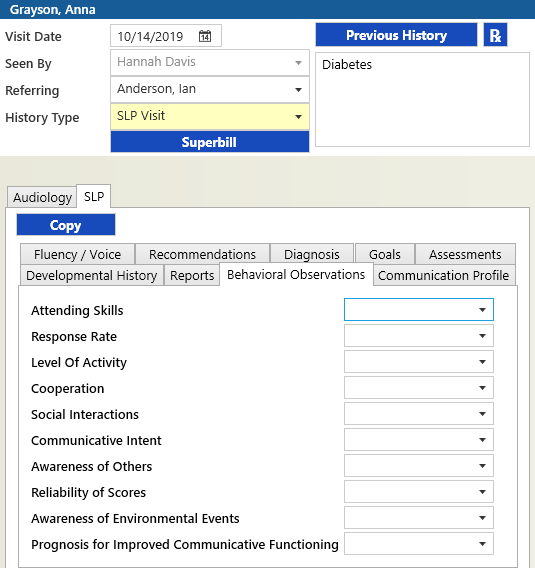 4. Other capabilities in SLP lets the user create documents such as Evaluation, Progress, Re-Certification and Plan of Care Reports.
5. The "Track Changes" feature in Microsoft Word® is accessible when designing reports in TIMS to provide revision history for student-oriented organizations such as universities and teaching hospitals.
TIMS Audiology & SLP software integrates all of your business operations into one manageable system. Whether you are a small or multi-site practice, an ENT group, hospital or university, features like HL7, Web Scheduling, Imaging, and Electronic Superbill, deliver greater functionality with superior flexibility for a more efficient way to run your practice. First developed in 1994, we continue to further develop TIMS to meet the ever-changing needs of our users.
Contact our Audiology Solutions Team for further information.
AudiologyInfo@CU.net
---