We Missed You, So We Brought You Some Highlights
Whether you didn't get to attend, or maybe you missed a session, here's a recap of some developments from this year's Users Group Conference you should definitely know about.
Accounts Receivable—Exciting News!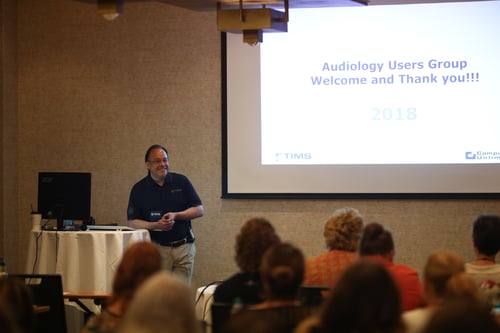 Company President, David Schaer, discussed details on the new A/R capabilities.

TIMS Software is now the System of Record instead of QuickBooks®. Easily find transaction details by clicking on the lightning bolt icon on your Patient Summary Panel. You will have the ability to see all open balance transactions and view all data including invoice, date, description, balance, charge, insurance payment, patient payment and adjustments.
Now, you can perform all necessary transactions within TIMS Accounts Receivable. Co-pays and credit card payments can still be easily applied to the patient's record. In addition, payments can be adjusted to add or modify patient co-payment if needed, after the invoice has been finalized.
***And...now you can print professional patient statements right from TIMS Software!
***NOTE: Existing TIMS Software customers can contact Audiology Support to schedule a software upgrade.
New NPI Lookup
There is big news regarding NPI Lookup. Simply go to the Physicians tab in the Patient Setup of TIMS Software and click on the magnifying glass next to the NPI field. Easily look up the number of the provider or organization by filling out one or more of the required fields, then click search. The provider or organization's NPI number will then appear for your use.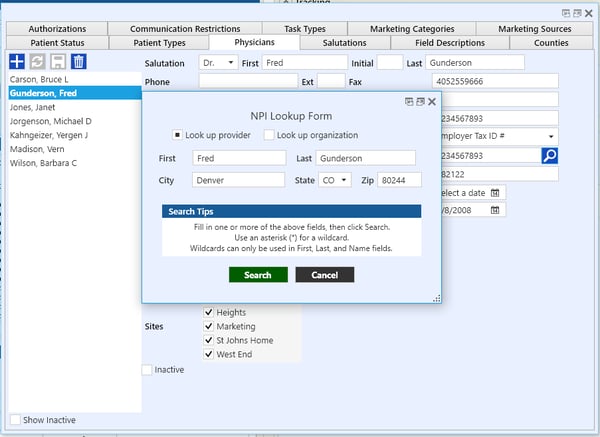 Here's What's New in Tasks
Task Panel
You can now access Tasks from not only the HOME tab, but also in a new Task Panel.
This panel can be pinned open and dragged/dropped to reside in various locations on the user's screen(s).

Tasks 'due today' will appear in red. Future Tasks will appear in black.

Create a list of Task Types in Setup (such as Reschedule Appt, Schedule Fitting, Patient Callback) to standardize office duties.
Attach Patient to Task
You now have the option to connect a specific patient to a Task.

Tasks due and completed also appear in the Patient Activity Panel.

Assign Task to 1 or more Users.

Each User can add their specific notes to the Task record.
The Task Panel can easily be expanded to show additional details.
---
Here are a few more pictures from the 2018 Users Group Conference.
Click here to view the full album >>
| | |
| --- | --- |
| | |
| Lunch time prize winners. | Janet Kautz, Business Solutions Specialist, gave an insider's view on the new enhancements to TIMS. |
Last updated June 15th, 2021.