Build Better Users
In 2019, the theme for Users Group was "Build Better Users," and we focused on providing opportunities for both new and seasoned TIMS Software users to learn, network, and gain insight into getting the most benefit possible out of their TIMS Software system.
From opportunities to test TIMS features in our Hands-On Room to discussions on specific business processes, this year's lineup was designed to help our users discover new ways to use TIMS Software to run their HME business more efficiently.
After an opening welcome from Computers Unlimited President David Schaer, we welcomed guest speaker Ty Bello, corporate coach and founder of Team@Work, to share his insights on the changing role of the HME sales professional. He led an energetic discussion on how "yesterday's" sales tactics are no longer as effective as they used to be, and how each of us must adapt to today's market demands. Thank you to Prochant and Allegiance Group for sponsoring our guest speaker!

TIMS Software also continues to evolve. In a session about "What's New in TIMS," our project management and sales teams outlined the enhancements to the TIMS system that have been released over the past year and where you can find these updates year-round. Attendees also spent some time in Q&A with the Computers Unlimited leadership team.
Looking toward the future, users participated in a development design preview of a new scheduled orders application. This application would increase patient satisfaction and reduce reorder denials by offering a subscription service for a patient's eligible supplies. It would enroll the patient in a resupply subscription from the initial intake, pre-qualify upcoming scheduled resupply orders prior to their ship date, and automate the patient confirmation process. Thank you, attendees, for your candid conversation and feedback!
Insights about TIMS Document Management and how companies using this application are reducing costs and protecting their claims from insurance rejections and denials
TIMS Medical Collections Worklists and the ways TIMS users are able to better manage those denials and track workload
Best practices for implementing TIMS Advanced Workflow, with tips based on feedback from TIMS users who have already mastered this tool
How HME/DME providers can enhance their delivery services with route optimization tools and TIMS Delivery, a mobile application that give drivers additional tools and flexibility

Best practices to ensure better collection rates (with Bruce Gehring from Allegiance Group)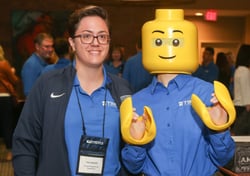 Several attendees also learned about business insights that can be gained using Microsoft's Power BI® as part of a post-conference session with our expert, Adam G.
This article was originally written by Patty Harrison of Computers Unlimited. Published 2019-09-23. Modified 2019-09-23.