If you're wondering how software and mobile applications can make your business run much smarter and faster with the efficiency and affordability you've been waiting for,
please stop by our booth #B28110 at FABTECH.
Go mobile to streamline and integrate your business processes. Schedule time with our team at FABTECH to learn about TIMS Software.
---
TIMS Delivery
Use iOS and Android smartphones or tablets.

Real-time connectivity to TIMS core over cellular or Wi-Fi.

Make changes to individual truck schedules, even while the driver is en route.

Maintain a perpetual truck inventory of full cylinders to capitalize on opportunities for additional deliveries or pickups.

Make changes to existing orders, receive additional dispatched orders, or create new orders on the fly.
Automatically record service times for each order to help analyze route, driver productivity, and delivery time.
Monitor and update GPS truck locations and order statuses with TIMS Scheduler in real-time to keep your whole organization connected with drivers and customer inquiries.
Smart asset validation alerts for specific data entry requirements for cylinders, bulk gases, hardgoods, and rentals to eliminate data entry errors.
Record asset information (qty, ships/returns, lot#, tag ids) with the smartphone camera, SIP keyboard or external Bluetooth barcode scanner. Capture additional information and images with user-defined electronic forms and voice-to-text notes.
Automatically calculate customer pricing, taxes, fees, and payment options for each order at time of delivery.
Auto-select (invoice) each delivery or accept a mobile credit card payment to eliminate back office invoicing and collection labor costs.
Email electronic proof of delivery and receipt to eliminate paper and automatically store copies in TIMS Imaging system.

Utilize your existing user security system to keep information safe and your system secure.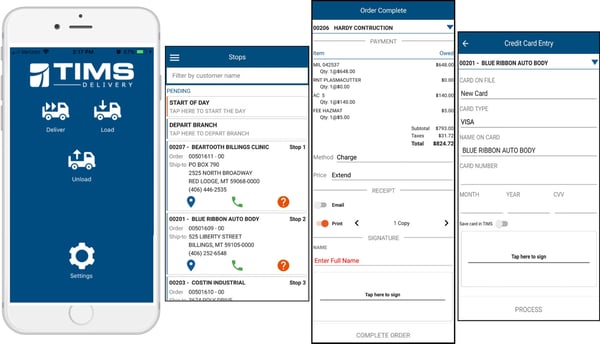 "TIMS Delivery was instrumental in helping us exceed our savings goals. We have a complex delivery model and saved more than 4.5 million dollars annually since full implementation. Updating orders in TIMS instantly upon delivery and eliminating labor-intensive, back office manual processes were major factors in realizing these savings."
~Oscar De Los Monteros, Preferred Homecare (home delivery of medical oxygen and medical equipment)
TIMS Assistant
TIMS Assistant is your mobile sales assistant on the go. TIMS Assistant gives you the capability to place orders, show inventory availability and contract pricing, check existing orders, and accounts receivable. Capture contacts, notes, and tasks for customers and prospects.
TIMS Plant
TIMS Plant targets fill plant operations from tagging new cylinder assets, verifying and updating barcoded cylinder information, cylinder filling, and truck load/unload reconcile functions.
---

TIMS mobile products will step up your game by streamlining processes for your delivery drivers, your sales staff, and your fill plant operations. Best of all, TIMS mobile applications are completely integrated in real-time with the core TIMS system.
Please stop by booth #B28110 at FABTECH to catch up on the latest TIMS mobile applications and modules we've developed to help your industrial gas and welding business run smarter.
---