Inventory Management
When you get a shipment, do you put all your products away only to pull them back out to fill backorders? Do you keep a file full of backorders and a file full of drop ship lists? Are you using manual count sheets to track inventory levels? How do you keep track and are you losing money because you're not?
Process Your Backorders as You Receive Them
How? TIMS integrated purchasing and receiving functions give you maximum efficiency and faster deliveries to customers and integrates serial and lot number tracking. Real time warehouse tracking and control allows you to quickly and easily perform inventory counts, pick inventory items for shipping, accurately receive goods from vendors and transfer inventory from one branch to another.
Don't Let Backorders Break Your Back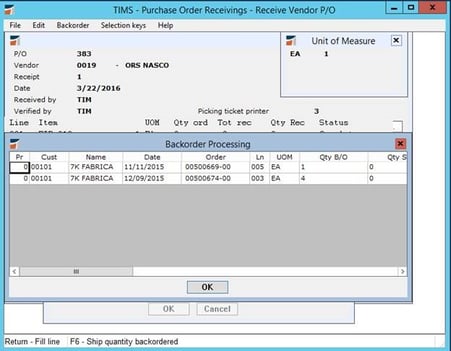 TIMS tracks your backorders and prompts you to fill them during the purchase order receiving process.
Receive purchase orders right at the time your inventory is delivered to your dock.
Ship complete orders give notification of partial items and final notification of a complete ticket during the receiving process.
Drop ship notifications are automated and specialty items are trackable, so you don't miss billing for them.
Wireless receiving and restocking. Key in the P/O number and start scanning.
Print barcoded price tags, receiving documents

or auto fill backorders wirelessly.
Manage your entire inventory by branch for accurate tracking.
Inventory
You can replenish stock manually or utilize the automated purchasing features for any hardgoods that have consistent replenishment needs. For extra productivity and business insight, use any of the built-in key features like drop ship P/O's, electronic P/O's or even suggested order quantities. If you've made a mistake while posting receivings, TIMS lets you go back and correct it. Backorder information with comments are available to your purchasing agent as soon as you file or change an order.
Reporting
TIMS Software provides the reports you need. P/O reports give you the ability to track expected arrival dates, so you will know if your shipment hasn't come in on the anticipated date. You can then inform your customer and contact your vendor on the status of the shipment. Tap into your TIMS data with powerful reports such as backorder/drop ship reports, shortage reports and suggested purchase reports. Find out where your excess inventory is and transfer it from one branch to another as needed—all within your vendor P/O. No more overstocked items!