The Best Marketing Tool is in Your Own Patient Database
Wherever your audiology practice may be located, whether a metropolitan or rural area, you know your market better than anyone and you know where your marketing dollars should be spent in order to get the most out of your advertising budget. One of the best marketing opportunities you may be missing is using your existing patient database. Taking advantage of this tool has rewards that are two-fold. First, it lets you market to a built-in audience, and second, it shows your patients that you care about them and understand their needs by keeping communications open with them—all by using your existing patient data.
There is no magic formula for figuring out how to advertise and market your Audiology practice. You can use trial and error, perhaps employ the services of an expensive consultant, or maybe an out-of-town media "expert" seemingly knows exactly what you need. One way to avoid the pitfalls of needlessly spending advertising dollars is to take advantage of the existing patient data you already have.
Let Your Patient Database Do the Marketing For You
Patient Summaries—When you see a patient, whether it be a first time visit, a hearing test, or a fitting or cleaning, you then electronically update their information in their patient file via your practice management system, so that all of your patient information is current. This in turn gives you the ability to pull that same patient data according to the parameters you set. Use your existing data to market to your patients via the TIMS Communications module with an easy to use robust filtering criteria system.
Current Opportunity Status Reports—Pull any status, such as "Tested Not Sold", "Re-sell" or even "Current User." Run this report for the dates you specify to see which patients need to be contacted for further consultation.
Filter Reports—Filter reports that show which hearing aids are out on loan, the aids that have been ordered but not received, and aids that have been sent out for repair. Once the aids have been received at your practice, run these reports to make sure your patients get contacted in a timely manner for their next office visit.
Marketing Source Reports—Choose from a variety of report filters such as your sales from marketing sources. This report will show you the results of your marketing efforts and link each one to profits.
Create Call Lists—Set up a list of patients who haven't had an appointment in the last year. Because you tracked the patient's last appointment, those that haven't been in, according to your criteria, appear on your list. Make calls directly from your electronic list, seamlessly switch to your scheduler to set-up their appointment, then easily move back to the remainder of your list and keep working it.
Create Letter Lists—Want to contact patients whose hearing aids may be reaching the end of their warranty? Use search by date criteria, then use a number of built-in templates to create a letter to your patient that can be personalized with your patient's name, along with their provider's name and actual signature. Send these out via email or by letter, whichever means of communication your patient prefers. Again, all your patient information is within your database so you can filter which patients prefer which method. The next step, creating mailing labels, is made simple by again pulling in your patients' addresses from your database and simply printing them.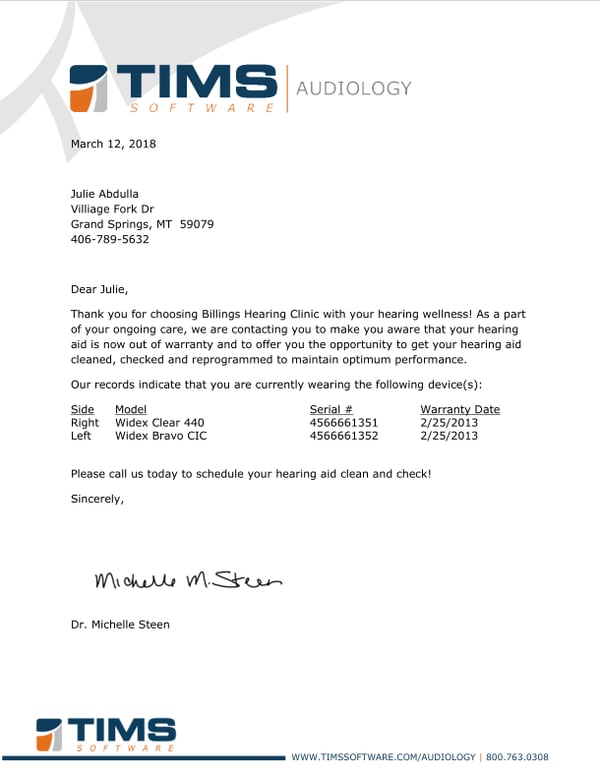 Keep Track of Patient Interactions—Record in each patient record, who you spoke with and the results, plus any notes you'd like to add for future reference; simply archive your actions and they become part of the record. Welcome new patients and send reminders, via telephone, email, or letter. Communications puts customer service at the top of your list.
End Results—If you are providing excellent service, your patients become your advocates and give you the best marketing tool that money can't buy—word-of-mouth. Take care of this precious asset because it will continue to grow your practice.
Contact Donna today to learn more about the TIMS Communications Marketing Module.
Published by Computers Unlimited on 2018-03-21. Modified2021-03-23.