Simplicity, Reliability, plus Support — 3 vital components to consider when choosing your Audiology & SLP Software.
Kapiti Hearing is non-stop busy. Independently owned, with two fully-equipped locations, Kapiti treats the audiology needs of adult patients. We asked Jeanie Morrison-Low, MNZAS, MAINZ, owner, and head Audiologist of Kapiti, if she would share her thoughts on why she relies on
TIMS Audiology & SLP practice software.
Here's what Jeanie had to say about the Simplicity of TIMS for reporting, recall letters, and both uploading and downloading of vital information.
"There are so many features of TIMS that we love, especially Tasks. It gives us the ability to do recalls, provides different staff members different levels of entry, and gives us an easy one-stop access to notes, audiograms and NOAH programming; so useful."
"We love that we can scan paper files into TIMS. We can also upload files from the computer, as well as download files onto the computer, then send them to specialists as email attachments directly from TIMS. It's great!"
"We can generate monthly reports on who is due for new hearing aids very easily – as well as generate recall letters to patients via TIMS templates, for annual reviews. There are multiple and editable patient data self-populating letter templates (reports to physicians etc.) within TIMS, or you can create your own."
Reliability — A must-have in a busy Audiology Practice. Jeanie has two clinics; TIMS helps her manage them.
"I have used TIMS audiology practice management system for many years now. It has literally transformed my life! As the audiologist-owner of an independent practice with two full-time clinics in New Zealand, it would be impossible to manage the thousands of patient files we have if we were still paper-based. TIMS allows me and my staff to coordinate appointments across sites, and to enter and see data from multiple locations, including from my home office."
"We can store all patient documents within TIMS, and can organize directly-scanned material into easily retrievable files within the system. We can also upload documents from our computers into TIMS. Best of all, NOAH and all the programming software and audiometer programs are held in TIMS, and accessible within it, so that all patient information can be seen. No hunting around for lost paperwork!"
Support — Jeanie believes in the importance of knowledgeable staff that know the TIMS system and are available when she needs them.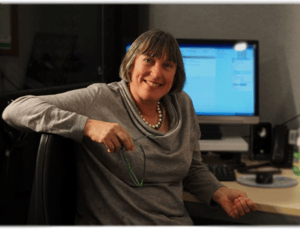 "The great thing is that if there are any problems, your (TIMS) expert staff are available at the end of the phone or online to help – they can remote in to our system if we need it. We have a pretty extreme time difference between Montana and New Zealand, but this has never been an issue. We've found them to be really responsive to requests such as making a space in the patient information section for reception staff to quickly see the type of hearing aids a patient has. This was a small request, but was very helpful.
"We so appreciate the fact that you always have very fast response times and efficient problem solving, should we need it. Your staff never changes and we really appreciate the continuity. Everyone in TIMS Support is very skilled at helping us."
In addition to operating two Audiology Clinics, Kapiti Hearing is also a member of Independent Audiologists NZ, affiliated with Independent Audiologists Australia and with ADA. They have a staff of 7 in two fully-equipped clinics. Check out their website at www.kapitihearing.co.nz.


Find Out How TIMS Can Streamline Your Audiology & SLP Practice
Last updated February 17, 2022