Struggle with incomplete information from patient appointments?

We can ensure you collect the needed information every time!
TIMS Audiology's powerful Questionnaire module allows for highly detailed surveys to be completed during an appointment with a patient. With our customizable questionnaire builder, you can create a template of essential details of patient interaction and collect thorough information!
Have multiple audiologists in your clinic? Create a standard questionnaire to ensure vital information is not missed across the many personality styles and methods of your audiologists.
With the ability to also create multiple questionnaire templates, and even sub-questions for more details, your versions will address the precise needs, conditions, and special circumstances exclusive to your clinic. Ensuring the necessary information is available at the end of the visit, for EVERY visit!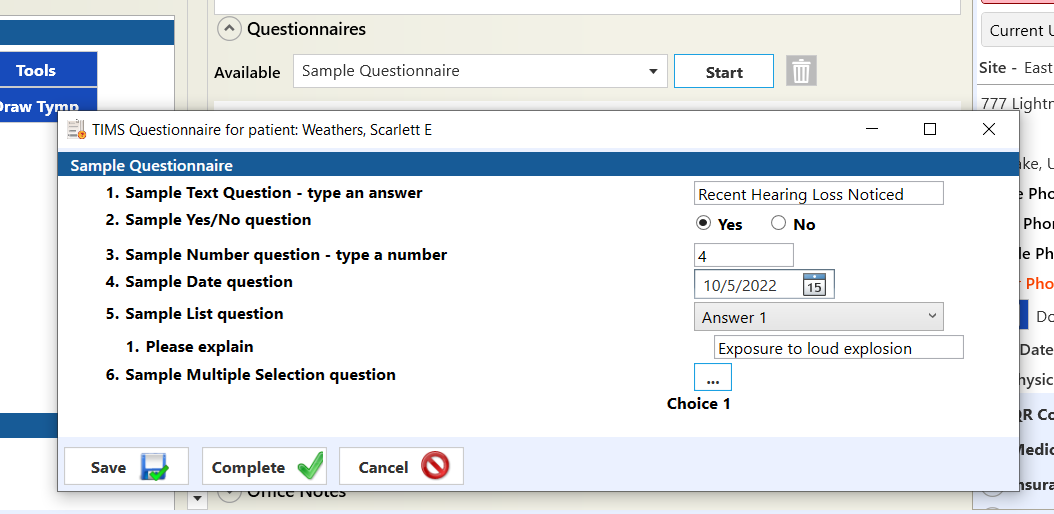 As demonstrated in the picture above, TIMS Questionnaires allow you to use multiple formats for your templates, such as:
Text

Yes or No

Number

Date

Drop-down List

Multiple Selection
While completing your patient's appointment, the question area can also be saved and closed to allow you to move on to other areas, such as NOAH modules, or even ordering hearing aids for your patient. Once you have completed the appointment, you will be able to see the questionnaire is stored in red lettering, indicating it has not been finalized. Return to the questionnaire, finalize the information (turning the lettering to green, see below) and TIMS can, at the user's decision, add all of the information to the notes area.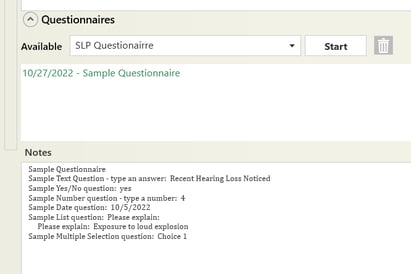 Use TIMS rich text notes area to continue adding to the patient information through templates integrated with your patient chart details. To add more ease to detailed or unique information, turn on the integrated voice assistant and record notes through dictation.
With all these quick and easy ways to make sure your patient information is stored and complete in TIMS, your notes and details will be pristine, and your follow-up with patients, accurate and complete!
Results from your questionnaires and notes are quickly pulled into custom reporting for the patient file, follow-up with other physicians, or historical records. Let us show you how. Schedule a demonstration with Donna and capture your patient evaluations with ease, starting today!
Updated 10/27/22