No One Likes Rejection
The dreaded claim rejection. No one has time for that. Chasing rejected claims is a huge time waster but it doesn't have to be that way. Whether you run a modest sized Audiology Practice or work in a university or hospital setting, you may wear many different hats. From patient scheduling and ordering supplies to payroll, to hiring and marketing, and that's probably just the tip of the iceberg. One way to make things run smoother is by using the right software system so you can get paid faster.
1. Insurance
When you begin with a solid foundation of insurance payers along with their valid payer ID numbers, you can quickly choose them and add them to your patient billing information. The right software should let you set up both primary, secondary and any additional payers as necessary, making it easy to refer to them and quickly add them to your patient information.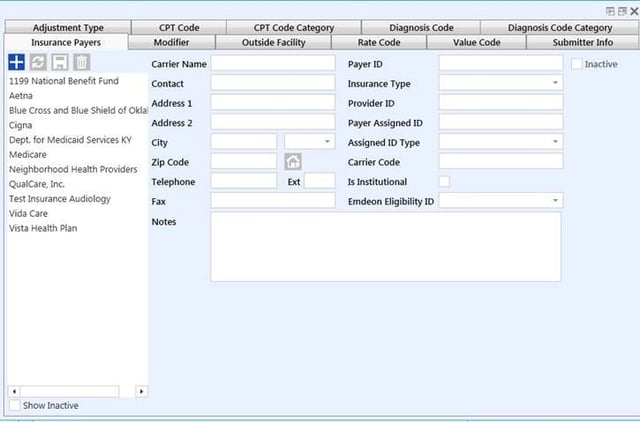 Add payers to TIMS and then easily add them to your patient claims.
2. Coding
CPT codes and diagnosis codes need to be validated on a yearly basis. Doing so gives you all of the current coding you need at your fingertips to add to your patient billing for successful submission. Using the correct coding, you arm yourself against having your claims rejected for incomplete data or outdated billing codes.
3. Authentication
TIMS software makes it easy to add up-to-date patient information such as address, phone number, primary or referring physician, as well as verifying insurance carriers and the insured's I.D. number. During the patient visit, this can all be done easily using Patient Editor.
Make it easy on yourself. TIMS gives you the ability to create an Electronic Superbill, which tracks every patient appointment through to claims and billing. To create a Superbill, simply go to the history screen, click the Superbill button and quickly add the CPT and diagnosis codes required. When finalized, this creates your claims transactions. Follow the process to electronically submit the claims*; no paper, no going back and forth to different systems.
5. Reporting
Check the claim status by using built-in tools to find out if all of your claims have reached the accepted status. Click on download to receive information on prior claims and view downloaded information from the display button to check if your claims were accepted at the clearinghouse or the payer. Use the claim status inquiry button to check payer level status of your outstanding claims.
Janet Kautz-Business Solutions Specialist, TIMS Audiology
*Ask about the claims pricing breakdown.