"I told them I'd do it myself," he quipped. "Just a bucket of paint is all I need."
This quip comes from a news article published in the Billings Gazette in January 2018. The article's author, Rob Rogers, was quoting Dr. Michael Schaer, Founder and Chairman of Computers Unlimited. For me, this statement by Dr. Mike embodies one of the cultural cornerstones we live by here at Computers Unlimited: 'Our People Make It Happen'.
Company President, David Schaer (Dr. Mike's son) finds many opportunities during meetings and company events to use this popular phrase. On our Leadership webpage, David uses his space to offer his thanks to all the employees for making It happen.

And, what is "It"? What do we do here at Computers Unlimited? It is TIMS Software, an integrated software system built over 40 years by listening to industry experts and the needs of our customers. Serving three unique vertical markets—Industrial Gas and Welding Distributors, Home Medical Equipment Providers, and Audiology and SLP Practices—Computers Unlimited marries TIMS Software in the best way possible to our customer's operational needs, according to Karen Morgan, Escalation/Upgrade Manager.
It is also the partnerships with our customers and vendors that have been developed over the past 40 years. It is the countless hours of education, training, and support that our people have given. It is the over 20,000 customers we serve across Canada and North America.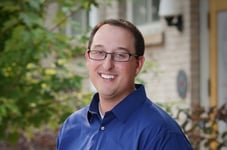 Statements by a few of our other managers further expand on this deeply embedded cornerstone. Recipient of a prestigious 40 Under Forty award, Kevin Fitchner, Industrial Development Manager, says, "I've had so many opportunities where I've been allowed to grow, and I'm just passionate about it. It's a family-run business. We've been developing software and relationships for 40 years. It seems cliché, but they really do treat you like family." Penny Mayer, ACM/Propane/eCommerce Manager, notes, "I work with a dedicated group of individuals who make a great team and are the epitome of the phrase 'Our People Make It Happen'."
One of our Directors—who I can tell you is not a fan of using pronouns like "it"—has this to say: "It is truly dynamic, colorful, exciting and multi-faceted." Our Support Services Director, Kevin Silvernagel, shows his appreciation of our company culture by saying, "I thank Computers Unlimited for the opportunity to live and work in one of the most beautiful places in the world, and to work with a fantastic group of extremely talented people."
Are you the kind of person who could live, work and breathe a workplace culture of "Our People Make It Happen?" Would you share your talents and strengths with almost 200 other employees to make It happen? If you think you've got the grit and determination to follow through, then head over to our Open Job Positions and apply.
I'm looking forward to seeing your smiling face and shaking your hand in welcome on your first day at Computers Unlimited.