Choosing a software tailored to your business needs is possible. When you choose an audiology software, you expect to find a software that will grow along with your practice and set you apart from your competitors. One of the features setting TIMS Software apart is the Questionnaire Module. It's standard in the software and we think you'll appreciate it. You can produce an unlimited number of Questionnaires in TIMS Software.
Initial Patient Visit
When a new patient comes into your office, it's a common presumption that you ask them a series of questions regarding their hearing issues in order for you to treat them in the best way possible.
Questionnaires give you the opportunity to ask those questions and, at the same time, save the answers to your patient's record. When your patient comes in for subsequent visits you have all of their information at your fingertips.

One of our standardized questionnaires, Adult Case History, helps you gather pertinent information such as what prompted the patient visit. Has the patient has been previously treated for ear problems, recent ear pain, or drainage? Rather than taking handwritten notes, you now have a standard way of recording all of your patient's information.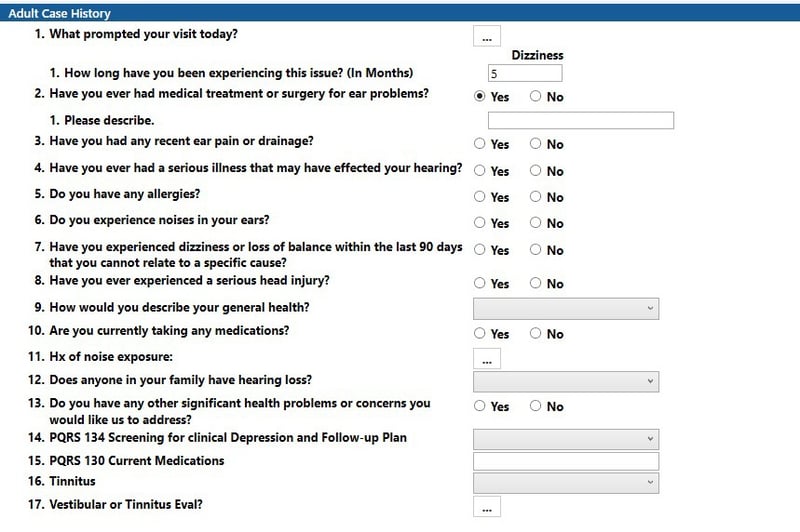 Remember to ask for answers to important patient questions and store them for future retrieval.
Automatically Store Valuable Statistics
The TIMS Questionnaire Module for audiologists gives you access to pre-built, standardized question sets, and allows you to customize your own questions. TIMS gives you the option of creating and incorporating as few or as many questionnaires as you'd like for each patient, with the ability to easily review them. Each questionnaire is also date and time stamped for historical purposes.
Last updated: October 20, 2021