Long gone are the days of ear trumpets, carbon hearing aids, vacuum tube hearing aids, transistor hearing aids, body hearing aids, eyeglass hearing aids, and the like. These technologies, while innovative at the time, have been replaced many times over with newer, better technology.
The same holds true for office management systems for hearing professionals; paper appointment books, online calendars, and even desktop email clients are no longer adequate for managing the many facets of patient care. Appointment information, audiograms, programming sessions, chart notes, reports, scanned patient records, hearing aid tracking information — all critical facets to your patient care — must be quickly and readily available to ensure a positive patient experience.
With these requirements in mind, let's review 10 considerations when looking for an office management system for hearing professionals.
1. Simplified Intake.
It makes sense to start at the beginning, with patient intake and appointment scheduling. Today's patients are more savvy than ever and expect the process of intake to be streamlined without having to repeat themselves or fill out endless amounts of paperwork.
An office management system should facilitate this process either through direct electronic means or forms printed with previously gathered patient information. If an appointment is already scheduled for the patient, then intake should have already begun and the patient should only need to update/verify information, not repeat information already provided.
2. Effective Scheduling.
A robust appointment calendar with customization options, automated appointment notifications, pop-up alerts for patient arrival, and business intelligence reporting logic will not only help reduce errors during scheduling, but will lower cancellation and no-show rates while providing top-notch outcome reporting.
Customization options for users mean increased efficiencies by matching layouts to workflow requirements. Automated appointment reminder systems will save your already busy staff significant time and your patients will be far more likely to attend their appointments when sent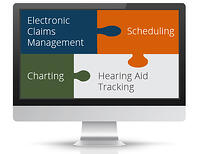 a simple reminder text, email or phone call. Pop-up alerts when patients arrive save time and are much less intrusive.
Comprehensive data analysis reporting provides real-time views into how your office is performing and can quickly identify areas that need improvement.
3. Intuitive Charting.
Keeping complete and accurate chart notes on every patient visit is the cornerstone of any office management software. Integration of core workflow components such as Noah data, chart note templates, hearing aid sales opportunity status and report customization streamlines the charting process, providing more time with patients and less time typing.
Ask about our Noah integration to ensure your providers can quickly access critical information without the need for double-entry or disconnected search processes. Customizable chart note templates that can be quickly added and edited make the best use of providers' time.
Straightforward and easily-accessed opportunity statuses put providers in control of each appointment without the need for awkward questions or uncomfortable delays while manually looking up past sale dates. When generating visit reports, an automatic archive to the patient's record keeps critical documentation at everyone's fingertips.
4. Smart Document Imaging.
Along with archiving reports generated from within the office software, complete document imaging and scanning capabilities free your office of stacks of files and paperwork. Smart document imaging systems are easy to use, store scanned files in a convenient location and format, and provide ample storage space. Additional tools that allow faxing, emailing, and exporting documents to PDF are not just an option, but a must for a truly "paperless" office.
5. Detailed Hearing Aid Tracking.
Any office management software worth investigating will have complete hearing aid tracking features that will allow your staff to easily add new hearing aid orders, track all the way through the fitting and trial period phase and even track repair and loaner statuses.
Look for customizable purchase, fitting, and trial agreements with electronic signature capture that integrates with point of sale systems. These auto-generated reports save tremendous amounts of time while eliminating transcription errors in hand-written agreements. Hearing aids are the primary contributor to sales figures, so detailed tracking and inventory control components are key to your growth and success.
6. Robust Point of Sale & Accounting Features.
Complete and robust point of sale functions with line-level integration into an accounting package means your financial reports, inventory counts, and payment and deposit information is always accurate — without having to grant unnecessary access to sensitive financial software.
Point of sale systems with full access control and audit capabilities provide you the peace of mind to focus on growing your business and should be a major consideration when choosing an office management system.
7. Integrated Claims Management.
For offices filing insurance claims, an integrated electronic claims management package streamlines the submission process and gets you paid faster. Look for features that allow your office to quickly create, process, send, and adjudicate claims within the software itself.
With the wide availability of electronic claim submission interfaces, sending HCFA 1500 forms should be reserved only for those payers that require them. Integrated claims systems save time and money by eliminating duplicate entry and reducing rejections.
8. Marketing & Communications.
Your current patient base is the lifeblood of your practice. From birthday cards to warranty due notices and new technology mailings, the ability to develop well-defined and reliable patients is a priority of any office software. Staying in communication with your patients will let them know how important their business is to you and will help you develop a rich referral program.
Tools for developing patient lists, creating marketing pieces, archiving what was sent and recording when it was sent, are all necessary components of modern office management systems. These features should be intuitive, easily repeated, and their success tracked with reportable metrics.
9. Outcome Reporting.
One of the most important components of any office system is the ability for it to provide reliable, actionable metrics for your office. Intelligent business decisions are made based upon real data that should be immediately available.
Information on the number of appointments per provider, attendance rates (both alone and with a companion), opportunity statistics, sales figures, and marketing/referral sources are all key performance indicators for your business. True office management systems will provide this data quickly and in real-time.
10. Security, Stability, Scalability.
Any decision regarding office management software ultimately results in you placing your trust and patient data in the hands of another company. This brings me to my final, but no less important, point.
Your search for an office management system should also take into account the security of how your data is stored and who has access to it, the stability and track record of the company backing the software, and the scalability of the software. The security and privacy of patient data is a concern that cannot be understated. With significant HIPAA fines for first time data breaches, the life of your business is literally on the line, so make sure your data will be stored and transmitted according to HIPAA guidelines.
The hearing industry has seen significant growth and change in recent years with no signs of slowing down. Keep this in mind when choosing your office management software and that the company you consider has a track record of satisfied customers and longevity of service. As your industry grows and changes, your software should be capable of growing along with it.
Questions? Comments? We're glad to fill in the blanks – click the box below to schedule a demo of TIMS Audiology with Donna.
Last updated: February 17, 2022