It's your data, it's worth its weight in gold, and you should have the ability to extract it and use it. Here's a few more reasons to incorporate both TIMS Software and Noah for a complete practice management software for your busy audiology clinic.
Noah Data Mining Facts
Noah data is stored and maintained inside of TIMS software. It's easy to access, analyze, and find specific audiogram data elements.

Choose from over fifty Noah search parameters to identify specific hearing conditions.

Automatically assign severity and configuration of loss based upon your specifications, then use the TIMS Communications Center to create custom search queries to find patients matching specified criteria including:

Severity

Configuration of loss

Age

Patient type

Hearing aid manufacturer, model, type, style, warranty and purchase dates

Quickly identify BAHA and CI candidates by entering air and bone conduction values during diagnostic testing

TIMS will identify candidates based upon your custom thresholds including the air/bone gap

Identify specific hearing conditions and selling opportunities for patients using built-in search tools.

Generate marketing campaigns directly from Noah data mining search results.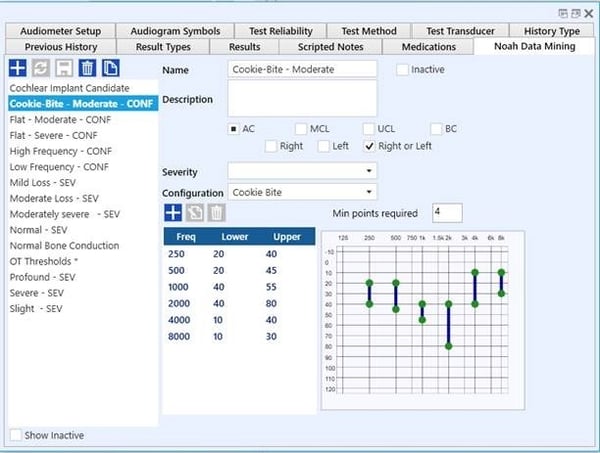 Search configurations and severity's with the Noah Data Mining Setup screen.
Follow-Up Your Knowledge With Marketing
Your Noah data is immediately searchable which means that anyone at your practice, whether experienced or new, can easily begin using Noah to match configurations of loss with possible new devices that are designed specifically to meet the needs of patients with those exact configurations. Once you include your severity and configurations, Noah provides a list of similar severity within minutes. You can then market specifically to those patients. Integration with the TIMS Communications Center means you can create your own customized marketing pieces and print or email them to patients. In addition, every interaction is archived and quickly retrievable from your patient record.
Here is a link to Part 1 of this blog series, in case you missed it.
---
See What You've Been Missing. Schedule a Demo Today.
Last updated January 18, 2022.