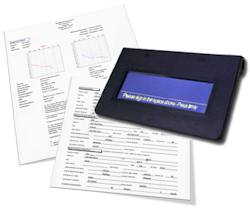 Fast and efficient distribution of patient forms is essential to your business. Using a combination of software data entry, document scanning and signature pad entry, TIMS Software saves paper costs and reduces labor involved from accessing charts to printing documents. In this blog, we answer your most frequently asked questions about electronic medical records (EMR) and paperless office management.
Can I scan all existing records into TIMS?
Yes! TIMS Software allows scanning of documents and insurance cards using any standard paper scanner and Microsoft Word. Scanned documents appear under Correspondence in the Patient Activity tab.
Can we collect signatures and store them on documents, such as privacy agreements and insurance authorizations?
Yes! Use the Topaz signature pad to apply electronic patient signatures to critical patient forms, including assignment of benefits, privacy agreements, loaner agreements, bill of sale and purchase agreements.
Does the audiologist need to sign the chart entry?
A care provider signature on patient chart records is required by Medicare for reimbursement but not generally required otherwise. When chart notes are recorded in TIMS Software, the database logs who entered the notes, and Medicare accepts the TIMS user login as an electronic signature, as long as it is the provider who made the entry.
In the case where a signature is needed for a diagnostic report or other documentation issued to a referring physician, a signature can be embedded using the Topaz signature pad.
Can TIMS Software restrict access to the data by user?
All electronic documents are securely stored and can only be accessed and printed via TIMS Software and an authorized user login—satisfying HIPAA privacy requirements for electronic medical record management. You set up user logins and assign access permissions for specific tabs and reports within the program. Thus, you have complete control over who has access to patient records.
Who owns the data?
You own the data. Both on premise and hosted customers retain control of their own TIMS Software data locally and securely 24/7. In hosted and multi-site setups, a complete dataset is retained at each location.
Go paperless using TIMS Software for hearing practice management! Eliminate storage space costs, increase customer service response and conveniently access forms securely and on demand from any workstation.
See firsthand how TIMS Software can proficiently manage your business needs.
Last updated January 4, 2022.