Recently, we visited with Rehder Hearing and Balance Clinic to chat about how they use TIMS in general, and to find out how the TIMS Software A/R module is working for them.
Rehder volunteered to be a beta tester for TIMS A/R and has been using it ever since. We spoke with Jacki, the Physician Marketing Manager, along with Libby, Rehder's bookkeeper/accountant, about how TIMS makes their jobs both simpler and smoother. Now they can concentrate on more important things, like their patients.
TIMS: How does using QuickBooks® differ from the new TIMS A/R?
Jacki: Well, using QuickBooks wasn't efficient. It was always behind. QBs and TIMS didn't read each other, so they didn't sync and there was always a delay of information. Because of this, we had to wait till the end of the day to see all the data from that day's business.
Libby: Everything was done manually thru QBs. With the new TIMS A/R, we automatically see what someone owes and what's been posted, right away. QBs was inefficient and our statements were very hard to read.
TIMS: What are some of the other ways that the new TIMS A/R helps?
Jacki: Patients called all the time because they didn't understand their invoice. Now, the new statement shows what's pending, what's allowable, what's deductible, and what the patient is responsible for. It's very clear, readable, and discernible. It's all real-time now.
Libby: It's eliminated all of the time we were spending on the phone explaining the invoice to our patients.
TIMS: What do you think about being the 'guinea pig' by testing all the new TIMS modules?
Jacki: We love being the beta for TIMS. You design it, then we get to test it, and give you our feedback. We want to know about all the new advances. We want the latest tech, so we want to know about everything new in TIMS. The staff here is very forward thinking and TIMS is all about making it easier for us, like no double or triple entry. QBs doesn't flow ... TIMS does it all. We know the whole TIMS team and if we need their help, they help us. When we go to conferences, we always tell other practices about TIMS also.
TIMS: What are some of the other TIMS features you use?
Jacki: We really like the statements. They read well, and look professional.
Libby: I agree. You can easily see the deductible amount and the patient responsibility. The statements look like something you'd get from a hospital.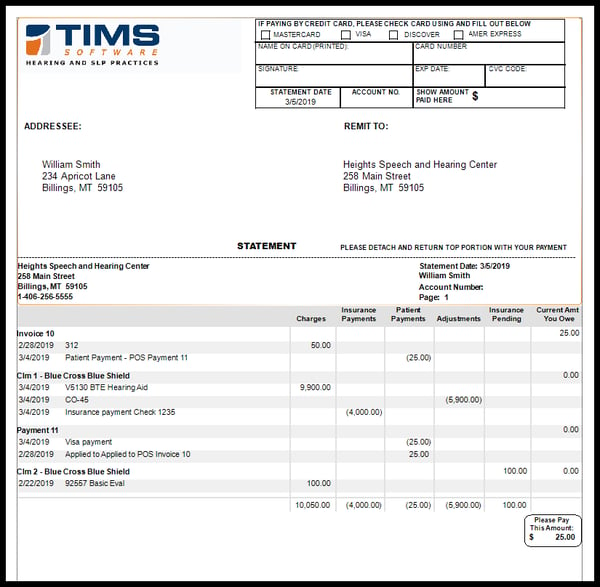 Libby: I really depend on the "notes" within TIMS. When the ERNs come through, we can see what's allowed, what's secondary, what the patient actually owes, or if Medicare mistakenly sent the payment to the patient instead of us.
TIMS: How else did going from using QBs to TIMS change things for you?
Jacki: It changed everything. I don't ever have to go into QBs to make sure they are synced with TIMS. It's so simple now. I click on the communication button, the 'lightning bolt' and it shows me everything I need to know—the claim and what POS transaction happened. Everything is sped up by 100%.
Libby: I don't have to go searching for anything and never have to go into QBs. I used to be forced to have them both open at the same time to make sure they were synced, now it's fast and simple.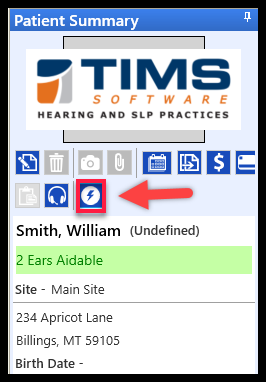 Jacki: The communication button lets me quickly draft a note from any screen I might be in. If someone calls and I'm working on a hearing aid, I can quickly Jump on their name, make a communication note, then jump back into what I was doing.
TIMS: Any other features you'd like to share?
Jacki: I love the reports. I can access reports like the hearing aid status, open super bills, and open invoices. It's really helpful for keeping on track. I like a lot of things in TIMS. It's convenient and I can jump back and forth to different screens quickly.
Libby: I Like how the panel pops up so I can easily see tasks.
Jacki: We can all keep things updated and everyone can see what their own tasks are within any given process, even scheduling a patient. We use TIMS Tasks for patients, like checking in hearing aids, and we can also use tasks for any general office tasks. We can create group tasks, team tasks, reminders to send out cards to patients, or create a task as a reminder to email patients to let them know we're starting a new leasing program, for instance.
TIMS: What about TIMS Users Group? Do you find it beneficial to your practice?
Jacki: I wouldn't miss Users Group. It's great to talk with others from audiology practices like ours and to learn about the latest and greatest technologies TIMS is working on. I like visiting with the vendors, too, like Review Wave. We started using Review Wave and we absolutely love it. We get great reviews! Our customer base is getting younger and they use Review Wave. It's a great resource for us and is inexpensive and easy to work with. I highly recommend them as a marketing resource for audiology practices.
Rehder Hearing and Balance Clinic, located in Billings, Montana, has been serving patients from all over Montana and Northern Wyoming since 1979. They are proud to serve a number of veterans from around this region as well. Jacki has worked at Rehder Hearing since 2012. She assists with all office operations including marketing, physician marketing, and administrative. Libby joined the Rehder team in 2018. She assists with administrative duties, specializing in insurance and claims.
Last updated March 23, 2021.