TIMS® Audiology & SLP Software seamlessly integrates with Noah System 4 Software, providing a comprehensive data portability system and a standardized platform for hearing test results. This powerful combination offers immediate benefits for your practice:
Benefit

from seamless integration between Noah and TIMS Software, ensuring a smooth transition and effortless data transfer.

Generate

diagnostic reports that combine chart notes, audiograms, and recommendations, providing a holistic view of your patient's test results.

Experience

more intuitive processes and efficient workflows, allowing you to streamline operations and maximize productivity.

Make

tracking and documenting information easier throughout the testing process with enhanced chart note capabilities,

Explore

TIMS Noah data mining for targeted marketing opportunities and patient demographic clarification. Access relevant patient data with improved search functions.
These enhancements translate into increased efficiency, smarter workflows, and seamless integration - all vital components for delivering accurate and reliable testing results. TIMS Audiology and Noah provide the perfect combination to meet the demanding requirements of your business.
Noah also offers a range of features designed to optimize your practice: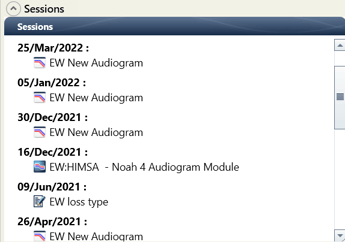 Utilize

Noah session tracking with one-click access, simplifying the management of patient sessions and ensuring seamless navigation.
Comprehensively supported audiogram symbols to correctly represent your patients' hearing profiles.

Additional

speech audiometry fields and word recognition fields allow for a more comprehensive assessment of your patient's hearing abilities.

Undergo

improved stability and usability, reducing the risk of technical issues and enhancing the user experience.
Import patient records directly into Noah from the NHA or NHAX file without launching Noah separately, streamlining your workflow and saving valuable time.
With all this valuable information consolidated in one place, you and your staff can eliminate unnecessary tasks and duplicate work, allowing you to focus on providing exceptional patient care. Discover the power of TIMS Software and experience efficient and effective management of your audiology practice.
See firsthand how TIMS Software can proficiently manage your business needs.
Last updated 9/20/23