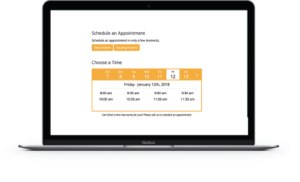 Review Wave is a software platform that integrates with TIMS Software, and manages your online reputation efforts using 'Review Marketing,' with Online Appointment Scheduling, Reputation Management, and Local Listing SEO. Your patients can now schedule their own appointments, based on availability, on your website. They'll see all available openings in real-time, and you'll receive a confirmation email and text to your practice when they schedule their appointment.
Why is Online Appointment Scheduling important to your patients?
According to a 2018 research study:
56.4 percent of respondents are frustrated with waiting on hold and the inconvenient office hours related to scheduling appointments by phone.

31 percent of respondents would be more likely to choose a new service provider if that provider offered online booking options.

Respondents would prefer to schedule medical-related appointments online more than any other type of appointment.
How are customers reminded about their appointment?
Within TIMS Software, you can set up Appointment Verifications and Confirmations to keep patients informed of their appointment with a phone call, text message, and/or email. Read more about this important step here.
What happens after the appointment?
After your patient's appointment, they are sent a feedback request; if your patient is satisfied with their appointment, Review Wave directs them to leave a review. If for some reason the patient is not happy with your services, Review Wave finds out why, and alerts you. They monitor all of your reviews on Google, Yelp, and Facebook and promote them on your website and Facebook page. Lastly, Review Wave syncs all your listings across the top 70 directories on the internet to increase your search engine rankings so potential patients find you first.
Take advantage of Review Wave's Online Scheduling with 60-day satisfaction guarantee. If you don't love their features or see results within the first 60 days of using their software, you can end your contract with no penalties or fees!
Go to

ReviewWave.com

for pricing or request a demo.
Published by Computers Unlimited of Computers Unlimited on 2018-04-02. Modified 2021-04-21.