Automating Your Business Software System
Besides product availability, ask yourself exactly what you have to offer to your customers and how you are offering it. Are they getting the best customer service possible, and are you using the right tools available to you to make this happen? In today's business climate, you can't afford to have a software system that is outdated or not specifically developed for the specialty gas and welding industry. When your business system is suffering, your employees and your customers suffer along with it. When you automate your business practices, you bring the system together to work for you, not against you, by providing better tools for your staff and better customer service, which in turn, creates customer loyalty and retention.
What the Right Automation Looks Like
1. Improve Customer Experience with eCommerce—An automated purchasing solution lets your customers help themselves when it's convenient for them. They can order directly from you, online, 24/7, whether they need cylinders or hardgoods. The right system will let them view open orders, invoices, their current A/R, existing quotes, and current and historic cylinder transaction details. They can shop for hardgoods, see their specific pricing and sales history, and use a credit card to pay for their order or pay an invoice.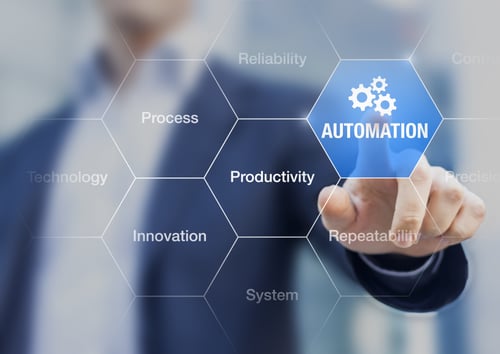 2. Streamline Operations—If you aren't tracking one of your biggest assets—your cylinders—chances are you are losing money. Automating your cylinder tracking lets you manage their every movement. Whether in the fill plant, on the dock, being delivered, or at a customer site, you, your delivery drivers, and your customers will all have clarity. Automation gives you the means to track the contents of a cylinder as well as the cylinder itself. Missing out on rental income can mean the loss of thousands of dollars in revenue. Manage cylinders with a single, centralized procedure that tracks both the contents and the rental of the cylinder. With the right automated tools, you can even employ start-of-day to end-of-day truck reconciliation.
3. Accommodating Growth with Intelligent Scalability—What happens when your business grows? If your backend operations are running less than smooth, consider what the right automation tool could mean for purchasing and receiving in different branch locations. Faster and more efficient delivery to customers, processing backorders during the receiving process, utilizing automated purchasing features for items with consistent replenishment needs, wireless receiving and restocking, warehouse transfers, auto fill backorders, drop ship P/O's, electronic P/O's and managing your supply closet by branch and location for accurate supply tracking. As your business grows, new branches or locations can be added to accommodate that growth.
4. Data Access Means Smart Management—Get the right information at the right time to track your business performance. When your entire system runs in real-time, all the data you need to create and customize reports is at your fingertips including sales by product reports, commission reports, and many more.
5. Reduced Costs Equals an Improved Bottom Line—When you choose an automated, industry-specific, ERP software system, your business runs at optimum levels providing better customer service, quicker response times, inventory knowledge and accessibility, cylinder accountability, and gives you a totally aggregated business perspective.
BONUS! #6. Take your business into the world of smart devices. Mobile delivery, on-the-go sales, and plant operations...there's an app for that!
Last updated January 14th, 2022.