Three Generations of Family and Technology
Every family has stories, including our customers. Read on to hear stories about family, business and how technology has changed over the years. And, how embracing new generations—of family and technology—has paid off.
Glenn Earl Bliss started out with General Distributing Company and became president of the company shortly after it opened in Great Falls back in 1948. "We sold everything from paint and tires to welding supplies," says Eric Bliss of his grandfather's business.
By the mid-1970's, General Distributing had established itself in the cylinders/gas industry and saw a second generation of the Bliss family come aboard. Glenn F. Bliss joined his father in the family business, while his sons, Glenn W., Eric and Brian began to get a feel for the family business in years following as well.
"I remember being in junior high and going to work after school to shred paper," said Eric Bliss. "I continued to work in the family business throughout junior high and high school."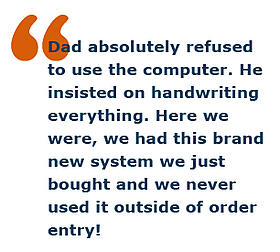 In 1985, General Distributing implemented a new technology to run the business—TIMS Software. Eric recalled the time they began using it, "By 1988, we were managing everything from our fill plant to inside sales. We were extremely busy, but Dad absolutely refused to use the computer. He insisted on handwriting everything. Here we were, we had this brand new system we just bought and we never used it outside of order entry!"
It wasn't really until 1999, when Eric returned from working at Boeing, that General Distributing started to truly leverage the technology they had in place. "I was doing cost analysis at Boeing and technology was an essential component of my job. I took advantage of every learning opportunity I could while I was there.
When I returned to Montana, we were using all 'dumb terminals' (VT terminals) at the business. It was shortly after returning that we purchased some personal computers—that was definitely a step in the right direction.
Then, we started having conversations about how we could apply what I learned at Boeing, in regards to efficiency and technology, to our business. If we could be successful in implementing those practices, the opportunities in front of us were huge."
And there were certainly opportunities that began to unfold. The benefits of leveraging that technology in General Distributing's operations were quickly apparent.
General Distributing went from:
Using dumb terminals to using PCs – this eliminated unwanted duplication of effort and data entry.
Manually reviewing and calculating trends from printed reports to using Business Intelligence from system data - this improved the accuracy and availability of data for more timely executive decisions. Significant insight into Sales, Inventory and Cylinders was quickly gained, as well as added capabilities to drill down on everything from customers and salesman to inventory and more.
Manually updating pricing to using the electronic catalog – this significantly reduced time spent updating pricing.
Using 2" thick Suggested Purchase Order Reports and manually entering purchase orders to using the Gordon Graham Method to determine order quantities and purchase points – this made big improvements in their purchasing and inventory management.
Tracking cylinder rentals manually on cards to using Advanced Cylinder Management (ACM) – this was a thoroughly researched decision, but a good one. Once fully rolled out, ACM all but eliminated reconciliation problems, lost cylinders and customer disputes. In addition, General Distributing is able to leverage ACM as a sales tool, as well as utilize ACM literature and internal best practice documents ("Value-Added") to secure new customer bids.
Eric believed that embracing the technology they had in place—along with continuing to make decisions in favor of new technology—was the right decision, and would continue to be the right decision.
The General Distributing team believed that 'value-added services' had helped the company be successful. 'Value-added' is the belief that the individuals at General Distributing rise above and go beyond standard customer expectations; that the things they do to help customers succeed and be profitable...matter.
New generations of technology help take that mission one step further so that upcoming generations of the Bliss family can be there to see this success continue...for their customers, their team and their business.
Most recently General Distributing launched a new E-Commerce platform with one thing in mind - making doing business with them easier. Here are a few customer benefits of the new system:
View real time inventory
View pricing
View account balances and invoices
Create quick lists for frequently ordered items
Quick access to SDS sheets, spec sheets and safety videos
Order when it's convenient for the customer
Last updated January 12th, 2022.