For this interview we spoke with Linda Fette, Vice President of Helget Gas, about methods they've incorporated to help their people succeed.
One of the many hats Linda wears is being a visionary for the progression of Helget's people and its processes. She continually looks for the answers on the best way to help her staff do their jobs with more efficiency. She found the answers in technology. Helget Gas has been a customer of ours since 2003.
Helget's Mission
Headquartered in Omaha, Nebraska, Helget Gas Products pushes steel from 13 locations in seven states to industrial, medical, and restaurant customers. Investing in their people meant employing technology to streamline their processes. Helget strongly believes that teaching, training, and developing their team means giving them the best tools possible to accomplish their goals.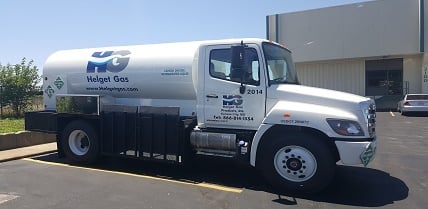 Keeping It Simple
Linda remarked, "When I saw TIMS Plant in action, I knew it was the right time for us to grab this technology to take our company to the next level. It aligned with our wanting to utilize the latest application-based technology."
Linda went on to say that when approaching Jim Helget, president of Helget Gas, she correlated the concept of using an application-based tracking method used on smartphones or tablets instead of a ruggedized device, by asking him, "Remember when there was beta and VHS?" It wasn't difficult to convince him that technology had moved forward, and it was time for Helget Gas to follow.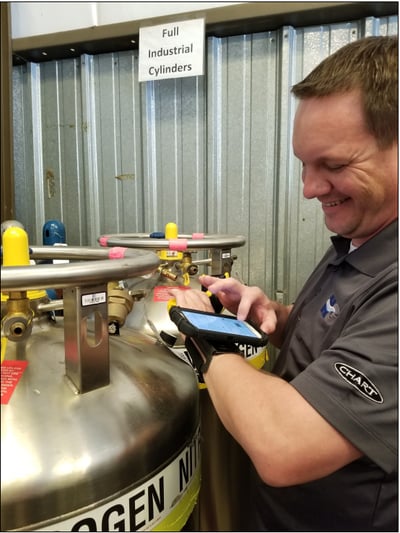 Linda added, "The decision was made easier knowing that we are using application-based technology that is more powerful today and is far less costly. We looked at the Computers Unlimited (CU) concept, how it fit within our business model, then decided where we could take it."
The Waiting Paid Off
Previously, Helget Gas did not track their cylinders. Ruggedized devices got the job done, as Linda had witnessed by visiting other local distributors, but also had a significant cost attached and weren't as intuitive as an application-based method.
When TIMS Plant became available, she realized it was time to make a move. Linda states, "By using a smartphone or tablet, you can see a clear screen. It's very intuitive and user-friendly even if someone is not tech savvy. Some of our staff still have flip phones and there are a few that don't have a cell phone at all! Tap the application to open, start tagging, add a tag—it walks you through every step. You can differentiate all the fields within each screen. Whether your drivers and warehouse staff are loading or unloading, shipping or returning, it's a simple process. If there's a recall, responses are faster. Finding the lot number is quicker."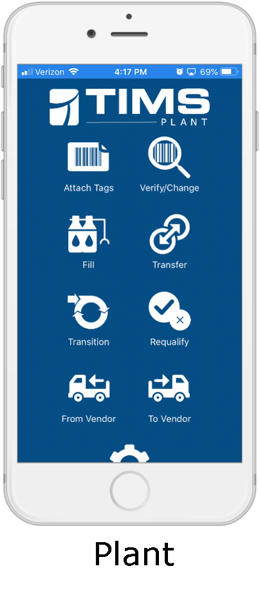 Change Was Easy, On-site and Off-site
Helget Gas has an enduring business model: simplify their processes. "The simpler we are the better we are, the more successful we become," says Linda.
Helget Gas already had a cell phone business package in place, so the decision to use smartphones as their device of choice was easy. They then purchased ruggedized cases to protect the phones and wrist mounts with heavy-duty Velcro for hands-free use. Linda stated, "TIMS ACM (Advanced Cylinder Management, CU's asset tracking module) lets you know what assets you have and where, so your count matches your inventory. We deploy people out to the field where we know there are a significant amount of cylinders at a particular location. They can tag cylinders on-site using cell access. Back at the branch, because TIMS Plant is application-based, users are connected to Wi-Fi, so there's no added cost there."
Testing
Computers Unlimited engages with their users to beta test new phone and tablet applications as well as TIMS modules. Helget Gas was eager to be a beta tester for TIMS Plant. Linda remarked, "We partner as a team with CU because they share our core values and they have a team oriented partnership with their users. We understand that we need to give feedback as to how their products function in the real world, in the warehouse, in the field, and in the hands of the users. When we test a new app or module and give our feedback we ask ourselves: 'What do we need? What makes sense to a supplier? Is something missing?' It must make sense for not only us; it also has to be a product that will move our entire industry forward and TIMS Plant does just that."
Why There's a Difference
"It's the partnership. There's a lot of value in partnerships. We assess our partnerships with vendors and customers based on our core values—honesty and integrity, life balance, and continuous improvement," Linda said.
She went on to add, "What's unique about TIMS, is that it's a fully operational software. You don't need to have two or more different types of software; it's an all-in-one solution. But what really differentiates TIMS is that CU is willing to work with their users and they listen to the input their users provide in the development of the software itself. Many other software companies just don't do that. CU values the information brought by the users, steering committee, and the forums, and they mesh that with the design of the software to develop forward. Other companies aren't doing that and it's what sets CU apart."
---
---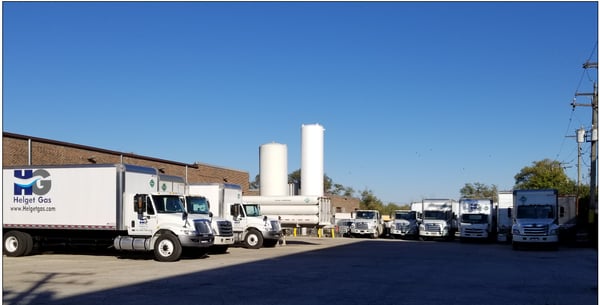 In business for over 35 years, Helget Gas Products is one of a select few Certified Anheuser-Busch CO2 Distributors in the nation. They are also an MVE Gold Distributor for bulk CO2 systems, as well as being an Authorized MVE Installation Agent. Helget Gas currently operates 13 branches throughout the Midwest and Florida, supplying customers such as McDonald's, Buffalo Wild Wings, Wendy's, Beef O'Brady's, Firehouse Subs, Casey's General Stores, as well as large event venues and stadiums like Jacksonville Stadium, TD Ameritrade Park, Busch Stadium and more.