Customer since 1989: American Welding & Gas Ranks in the
Top 100 Businesses in North Carolina
Each year, North Carolina ranks the state's 100 largest privately owned companies. Companies that find a spot on the Grant Thornton North Carolina 100 list are ones that greatly impact the local economy. Together, these top 100 companies employ over 100,000 people in a diverse group of industries. The Grant Thornton North Carolina 100, or NC100, was created 33 years ago to highlight the unbelievable talent and innovation happening with North Carolina companies and the substantial economic impact they provide.
American Welding & Gas (AWG), an employee-owned company, is headquartered in Raleigh, NC. AWG traces its history to Valley Welding Supply in Billings, Montana, and Scott-Gross Company in Lexington, Kentucky—both of which began in 1949. Over the past 67 years, the company has grown both organically and through acquisition to its present size of 72 retail locations from Montana through Georgia.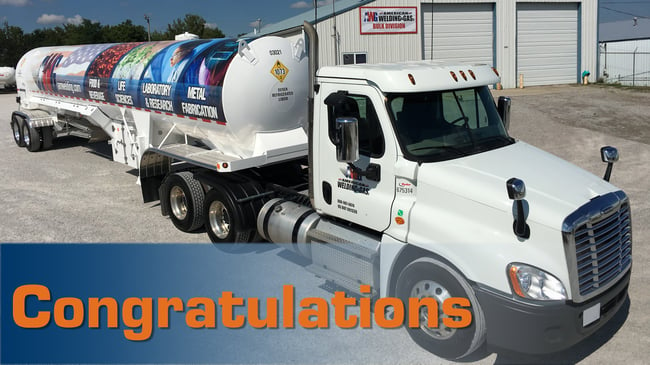 Headquartered in Raleigh, NC, AWG attributes its continued growth and success to its dedicated team members. AWG has 585 employees who serve their customers in over 30 states and Canada. With 13 gas fill plants creating industrial, medical, specialty and beverage gas products and a fleet of over 250 trucks and trailers, AWG services large, bulk cryogenic gas customers as well as small one person businesses. Acquisitions and green starts have expanded the company's infrastructure allowing a constant influx of new markets for their products and services. Future expansion plans include new facilities in Duncan, SC, and Chambersburg, PA.
More than just a B2B company, AWG distinguishes itself by being a solutions provider. With nearly 7 decades of experience, AWG has the knowledge and resources necessary to guide, support and adapt as a customer's business grows. AWG treats each customer as a partnership and tailors a custom gas delivery system, delivery schedule and product mix that meets the customer's current needs while maintaining future expansion abilities.
Congratulations AWG. Well done.
Last updated January 12th, 2022.