How to start managing your compressed gas cylinder fleet with bar code tags

:
1. Get TIMS Software with the Advanced Cylinder Management add-on
2. Print sheets of bar code labels (3rd party service)
3. Tag both sides of every cylinder in your fleet
4. Use TIMS Software and scanners to enter each cylinder's serial number, new bar code, ownership, location, age, and status
5. Setup broad cylinder tracking rules and workflows
6. You are now ready to fill, load and deliver cylinders to your customers
This list is not all inclusive. But we know that many distributors are looking for guidance, direction and insight on how best to get started with cylinder bar code tracking. When you use TIMS Advanced Cylinder Management you'll be able to perform branch and vendor transfers with ease. TIMS can track internal cylinder transfers, and both ships and returns to vendors for servicing and filling of cylinders. You can even record lot numbers on full returns.
With all this data at your fingertips, cylinder safety and trending become much easier to manage. Always know which cylinders are due for hydro-testing or should be retired. Analyze changes in cylinder balances and statuses over time by gas item and branch location to uncover surplus stock or shortages.
Get the integrated TIMS eCommerce solution and give your customers the ability to order products, view invoices, cylinder balances, proof of deliveries and perform cylinder department tracking. This means cylinder exceptions are easier to handle.
TIMS Software also features mobile products that will grow your operation by streamlining processes for your sales staff, your delivery drivers, and your fill plant operations.
"TIMS Advanced Cylinder Management (ACM) is our guarantee to customers that their cylinder tracking is accurate and this builds confidence in the relationship. Using ACM to identify and prevent cylinder discrepancies is a win/win proposition."
Welders Supply Company of Louisville
"Once fully rolled out, ACM all but eliminated reconciliation problems, lost cylinders and customer disputes. In addition, General Distributing was able to leverage ACM as a sales tool, as well as utilize ACM literature and internal best practice documents ("Value-Added") to secure new customer bids."
General Distributing Company
Bar coding your cylinders isn't an evil process. With the right integrated software and hardware solution you can have all these benefits and many more.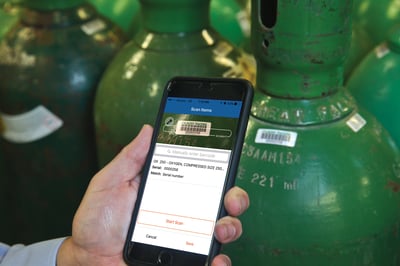 This article was originally written by Gayle Smith of Computers Unlimited. Published 2011-07-27. Modified 2019-04-08.
---
Are you ready to reduce cylinder errors? Streamline cylinder operations? Quickly resolve cylinder disputes and correct errors? Then you're ready to see TIMS Software in action and start bar coding your compressed gas cylinder fleet.