With online sales quickly approaching the one trillion dollar mark, it might be time for you to consider an ecommerce site for the benefit of your customers, your staff and your business. If you haven't jumped into this arena yet, here are some actionable items to get you started.
1. Yes, you can compete with online big-box stores and your customers will thank you. You compete by delivering excellent customer service, inside product knowledge that only your expert sales and CSRs can provide, and by offering an online site that your customers can take advantage of with a multiple range of user applications that reach way beyond simply making purchases online.
2. The right ecommerce site doubles as a robust customer service tool. Giving your customers the ability to create orders through your portal is certainly probable. But by using an ecommerce platform that is fully integrated with your ERP system, you have the ability to give your customers a much fuller experience empowering them with tools that big-box ecommerce can't match. Imagine your customers being able to pay their invoices with a credit card directly to their account, 24/7, in your secure ecommerce site. Consider how your A/R would be affected if 80% of your customers paid in this manner every month.
3. Train your staff to understand exactly how your site works and all the things that your customers can accomplish within the site, in addition to placing orders such as: looking up existing orders, checking cylinder balances on rentals and leases and searching sales, A/R history and account balance history. They can access past orders to scroll through previously ordered products and easily re-order. Promote your site and train your staff. Doing so will enable your customers to help themselves to their own information.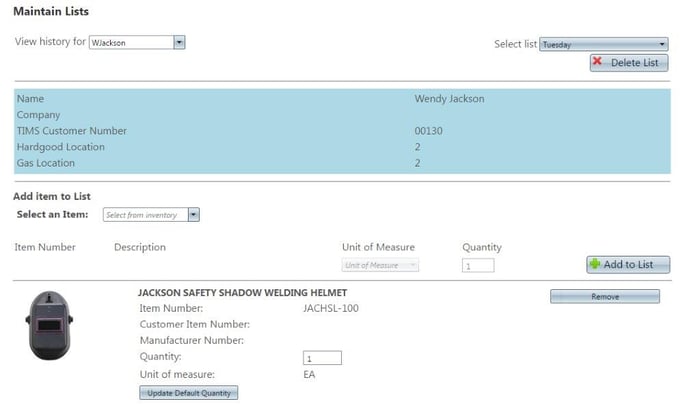 4. Loyal customers and margin dollars—Stay in focus in regards to your best customers and what they purchase, including your most profitable items. Make sure they understand how your site works and all the possibilities this creates for them to do their job better and more easily by using your comprehensive site for a variety of their business needs. In addition, you can track customer spending and customer logins by month through easily accessible reporting tools.
5. Dispelling the myth—Your customers may find a better price online. Be ready for this and prepare your staff with the knowledge to address this situation so that they are not caught off guard. Is the item the customer is referencing new? Used? Is it returnable? What about freight costs? What is your standard policy?
For more insight, read the January 2017 issue of Gasworld, "eCommerce—successful strategies," by Doug Iversen, Director of Sales and Marketing, Retired, at Computers Unlimited.
The TIMS eCommerce module makes it possible for your customers to serve themselves in a variety of far reaching ways beyond just purchasing welding and gas equipment. The center of your ecommerce strategy is to serve your customers well.
Last updated January 14th, 2022.