By the looks of a business name, let's call it "ABC Gas & Welding Supplies," we can conclude what it is that they do as the name says it all. They deliver a variety of gases and hardgoods to a variety of customers. Those same customers can pick up or exchange their own gas cylinders or go into the ABC Gas & Welding Supplies store to purchase hardgood items and rental equipment. Or, they can place a call to ABC, and the items they need can be delivered with any cylinders they might have ordered or are returning.
Sounds easy enough, but let's take a look at the back offices of ABC. Are things running smoothly or are outdated practices costing the company time and money?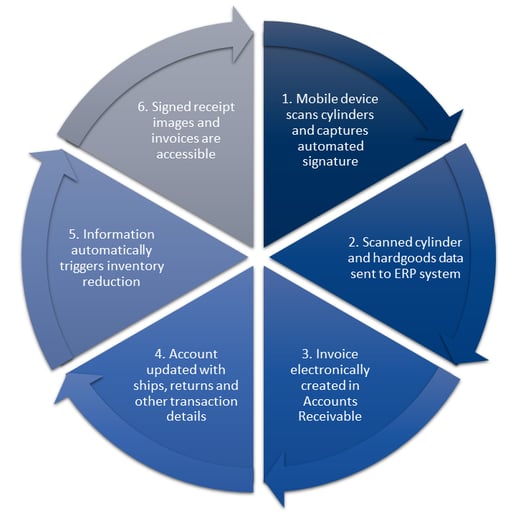 Ticket Discrepancies—The ABC delivery driver stopped at XYZ Construction Company. The driver may have lost the delivery ticket...Well, XYZ called and they don't have any record of the delivery. No one there remembers signing for it, so they want to know why this delivery is on their bill, and being savvy business operators, XYZ is not going to pay that bill without proof of delivery.
Sound familiar? With TIMS Mobile Delivery, this time waster is a thing of the past. Cylinder barcode tracking enables your drivers to scan the cylinders they delivered getting an electronic signature of delivery. This transaction is then automatically uploaded into your ERP software to Accounts Receivable and can be retrieved and emailed or faxed to your customer for proof of delivery in minutes. When payment is received, you'll have the ability to mark invoices as paid on your customer's accounts. Better yet, give your customers access to their account through your TIMS Software portal and let them pay their own invoices with a credit card. An electronic account history at your fingertips means not having to deal with lost tickets, bad memory recall and wasted time.
Overdue Receivables—XYZ Construction Company is calling again. Someone from ABC called them about their bill, but XYZ is saying they made a partial payment just yesterday and they're not happy. There should have been a sticky note in their file so everyone would know...
How does your current system tell you who has paid and who hasn't? Do you have a comprehensive aging report? Instead of having disgruntled customers and making your staff waste time and money chasing problems, streamline your processes. Update A/R, check invoice payments and add collection notes electronically so everyone's on the same page with accessible up-to-date information. You can even create an action to automatically trigger a follow-up Task. Every action is logged and you can say goodbye to sticky notes.
ABC Gas & Welding Supplies is a fictitious business with real world problems. If your company is going through similar issues, maybe it's time to talk about getting your business to work for you.
Published May 25, 2016 by Gayle Smith of Computers Unlimited. Date modified: March 12, 2018.