Now known as Provanta Inc., this company has been local, and family owned for over 85 years.
Monika Goss grew up listening to her dad, Dave, talk shop about Goss Gas. In 2021 we spoke with Monika, who is now the 4th generation addition to this family business. Monika describes how her own journey helped prepare her for the gas business and in what way technology supports her in her busy day-to-day management role. Provanta Inc., formerly Goss Gas, has been a TIMS® user since 1994.

CU: Tell me a little about your master's degree in biomedical engineering. How has your experience managing in a lab setting helped with your management responsibilities at Goss?
Monika: "I learned the value of hard work, making business connections, and meticulous organization that continue to help me here in the family business. I'd always had an interest in science and engineering. I think I was about 13 when I decided specifically on biomedical engineering. I loved it! I earned my master's degree with a focus in polymers and drug delivery, then went on to manage a neural engineering research laboratory. My work at Goss Gas and Provanta isn't quite the same, but I learned valuable time management and prioritizing skills that have transferred."
CU: In 2018, you became the purchasing and inventory manager at Goss. Can you tell me about your learning curve?
Monika: "I'd done some purchasing and inventory while working in the lab, but it was on a smaller scale and of course, involved different products. I felt like it took me a solid six months to get the hang of things at Goss. Thankfully, I work with some really great vendors and coworkers who were patient and understanding and helped me learn the ropes. Purchasing and Inventory Management in TIMS are vital for me. I wear a lot of hats at work, and having a system that can do some of the thinking for me is so valuable. These tools really help us optimize our inventory and stay on top of orders."
CU: Being relatively new to working in the gas & welding and propane industries, what methods have you found work best to help you stay on top of day-to-day processes?
Monika: "The different customer profile tools that TIMS offers, including Customer Centric and Bulk Gas Manager really make it possible to keep track of a huge list of customers. Rather than trying to remember everything, I'm always looking at a customer's profile or delivery history. It's a huge help not to have to rely on my memory for such things. This allows us to stay organized, be more efficient, and save a lot of time."
CU: Could you tell me a little about Provanta and RenovEx?
Monika: "Provanta is our bulk propane division focusing on home and industrial heating. RenovEx is our 20# grill cylinder refurbishing, filling, and distribution facility. Between all three divisions, we deliver or distribute about 7.5 million gallons of propane a year."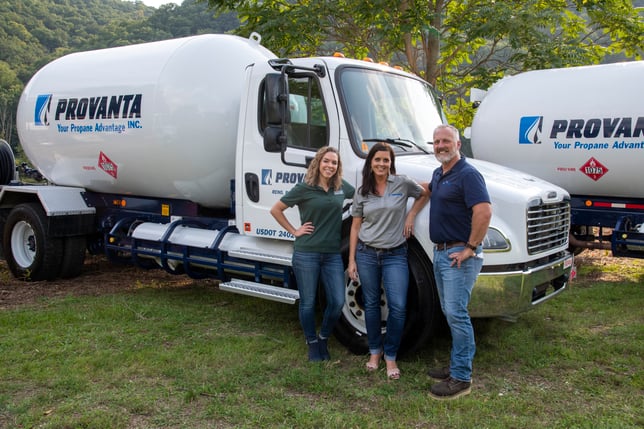 Combined, Goss Gas, Provanta, and RenovEX distribute over 7.5 million gallons of propane a year.
CU: How long have you used Bulk Gas Manager and how does its use affect your daily procedures?
Monika: "We've been using TIMS Bulk Gas Manager at our propane division, Provanta, for about five years. It's been hugely helpful for us in keeping track of customers and their delivery histories. We also use Bulk Gas Manager's predictive capabilities to determine when we should service our automatic fill customers. It's a great asset to have and helps us to optimize our deliveries."
CU: You mentioned that Provanta is implementing TIMS eCommerce for your bulk propane customers. Is that happening in the near future?
Monika: "We now have this up and running! Provanta launched our TIMS eCommerce site in early January of this year. We've had hundreds of users register already! It has really streamlined our online ordering system and allows our customers to make payments and manage their accounts online."
CU: You became assistant general manager at Goss in 2019. What are you finding is most surprising in this industry?
Monika: "I knew I'd likely be comparatively very young and one of only a few females when I rejoined the industry, but honestly, and thankfully, that hasn't been much of an issue. For the most part people are respectful and welcoming and eager to help the next generation learn."
CU: Was it hard getting used to the business of gas & welding supplies?
Monika: "It was definitely a transition from biomedical engineering to industrial gases and welding supplies, but I grew up working in the business and hearing my dad talk about work, so I had somewhat of a background to build on. Many of our employees have been with the business for 15+ years too, so they helped to make the transition smooth."
CU: What does it feel like being the 4th generation at your family's business?
Monika: "What an honor! How many people can say they're the fourth generation to work at their family's 86-year-old business? There's some stress because I want to do well and make previous generations proud. I want to succeed because three generations before me did a lot of hard work and made a lot of good decisions to get us to this point. I have my dad, Dave (third generation), to help guide and teach me, for which I am very thankful."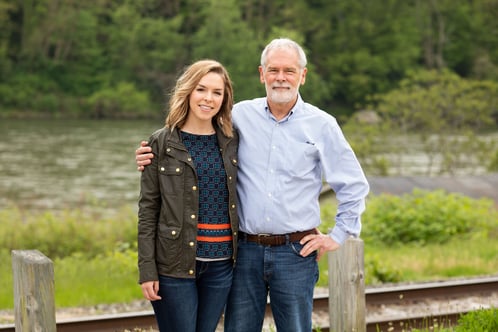 Monika and her dad, Dave Goss
CU: Do you feel like this industry, overall, is tech savvy? How would you suggest or plan on bringing Goss Gas into the future?
Monika: "I feel like the industry as a whole isn't terribly tech savvy. As future generations join the industry, we see the ways technology can improve and streamline a business. We are taking steps toward becoming more user friendly. As I mentioned, Provanta is currently implementing TIMS eCommerce for our bulk propane customers. Customers will be able to check their account balance and delivery history, pay bills, and order product online. We're very excited to roll this out and I think it will be the start of several projects for us to increase our online presence."
"Goss Gas and Provanta are also working toward becoming more environmentally friendly by converting our fleets of delivery trucks to propane powered vehicles. Propane is clean burning, locally sourced, and reduces operating costs for both companies."
---
Monika Goss is a member of the Young Gasser's 30 Under 30 Program.
Monika Goss has a master's degree in biomedical engineering. Previous to returning to the family business, Monika managed a neural engineering research lab. She returned to Goss Gas in 2018 as purchasing and inventory manager and has served as assistant general manager since 2019. Goss Gas Products, Provanta and RenovEx are based in Reno, PA.
The International Association of Young Gassers is a professional networking, social, and service organization of the propane industry encouraging other young persons, both professional and technical, to choose career paths in the propane gas industry.
---
Do you wear a lot of hats?
We can help.
Last updated November 13, 2021.