TIMS Assistant has made heading back to the office at midday, waiting on hold for customer information, and handwriting orders at your desk at 5:30 pm,
a thing of the past.
Here's a look at just one of the features available in TIMS Assistant. Download the 10-page eBook for more information.
Open Orders and Quotes
Convert quotes into orders with a single click.
Turn orders into instant deliveries and record asset information at the point of delivery.
Review customer notes or create new ones when important information needs to be captured.
Auto-alerts indicate when a gas or hardgood PO is required.
Add comments to the order and individual line items to clarify order requirements.
Search, scan, or look up buying history to eliminate guessing about the right part number.
Item pricing, taxes, fees, and total are calculated in real-time.
Choose the best shipping method and payment option.
Print orders for picking.
Order confirmations are automatically emailed to the customer thanking them for the order.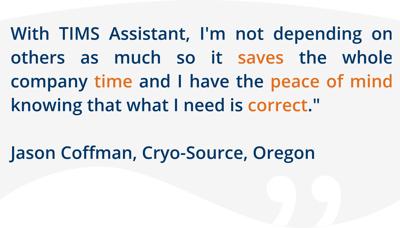 ---
TIMS Software paired with TIMS Assistant gives your sales staff the tools they need to win. With real-time information at their fingertips, your staff has the power to get the information they need to assist your customers with fast, accurate answers.
Subscribe to our industrial blog notifications and watch your inbox for an invitation to the upcoming TIMS Assistant Webinar in April 2019.