Deliver More, Without Hiring More Staff
How many deliveries does your team make each day? If that number were to increase, would you you suddenly be on the hunt to hire more staff? What if you didn't have to? What if your business could grow, without having to invest in hiring and training additional drivers, dispatchers, customer service reps, and back office staff?
With a mobile solution like TIMS Delivery in place, drivers become more efficient, dispatch and customer service duties are streamlined, and some quality assurance tasks can become automated. These efforts reduce the overall cost of each delivery, and give you the flexibility to place your staff where they're needed most.
Increase driver efficiency. We already shared in Part 1 of this series how better route planning, with either TIMS Scheduler or our integration with Omnitracs One® (formerly Roadnet®) from Omnitracs, can help you maximize driver productivity and decrease the number of drivers/vehicles needed. But the efficiency goes even further. TIMS Delivery gives drivers access to all the information they need—no matter where they are—on a smartphone or tablet.
Through the mobile app, without having to call back to the office, drivers can:
s

ecurely access patient information to verify addresses and delivery time

note any potential hazards at the delivery location (such as airborne, infectious, or blood-borne diseases)

s

tay organized and on task with delivery prompts and checklists

c

heck inventory and pricing manually or by barcode scan

r

ecord serial numbers and lot numbers

a

ccess and submit electronic forms and documentation

and more.
Streamline dispatch and customer service. Since deploying TIMS Delivery, our users report that their drivers run on time for more of their appointments, and calls to the customer service center have dropped significantly. When customers do call, customer service representatives are able to use TIMS Delivery to easily access each driver's route and provide more accurate expected delivery times. (For Preferred Homecare, calls to their main customer service center dropped from 500 to 30-40 calls per day. See the case study for more!)
Automate some back office and quality assurance tasks. While there's always a need for a quality assurance team, TIMS Delivery can make their job easier by requiring that certain necessary information is collected during a delivery, and setting requirements for what should be collected in each order. In many cases, there's no need for staff to individually check for signatures, verify regulatory items, and make sure the correct accessories were added to an invoice. Plus, since information is collected electronically and updated in real time in your TIMS system, there's no paperwork for back office staff to re-key or scan (or keep track of)!
Delivery cost management is about having the right staff and the right tools in place—and using them to improve your bottom line. Let TIMS Delivery help you save your staff time so that as your business grows, they can still "get it all done."
---
Preferred Homecare Saves $4.9 Million After Implementing TIMS Delivery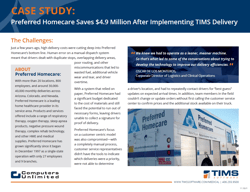 There's nothing better than seeing our customers meet and exceed their goals, especially when TIMS Software is a partner in that success. See the data for yourself and learn how Preferred Homecare reduced labor costs across multiple teams by an average of 58 percent, while also increasing their total daily and monthly deliveries.
"From a customer service standpoint, and just a business efficiency standpoint, TIMS Delivery is a must have to be competitive today. If you're not doing this, you're behind." — Oscar De Los Monteros, Corporate Director of Logistics and Clinical Operations, Preferred Homecare
---
Next week, in Part 3, our final chapter of this series, we'll look at how TIMS Delivery can add convenience to delivery, and improve the entire experience for both your customer and your drivers. See you next week!
This article was originally written by Patty Harrison of Computers Unlimited. Published 2018-12-05. Modified 2018-12-05.