TIMS Delivery Helps Improve the Patient Experience with Better Driver Accuracy and Curbside Adaptability
The link between your product and your patient, drivers and technicians play an important role in the overall customer experience. Do they have the tools they need to make a great impression? A mobile delivery solution, like TIMS Delivery, can help your team make deliveries painless for patients and goes a long way toward turning them into loyal, long-term customers. Here's how:
Accurate Arrival Times: When you use a routing and delivery solution like TIMS Delivery, customer service representatives are able to provide customers with a more accurate estimated time of arrival. CSRs and team leaders can make better predictions, and know the status of a driver at a specific point in time. This improved transparency also provides a line of communication between drivers and schedulers, so they're better able to adapt to last-minute needs like new, urgent delivery requests and route changes. Plus, more accurate planning means that when a technician arrives at the patient's home, they'll be able to provide set up and training, if needed, without worrying that they're late for their next stop.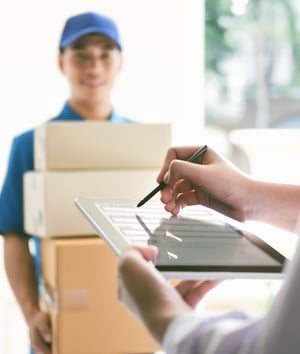 Ability to Update Orders: Say you arrive at a customer's home and they want to add a few extra cannulas or a new CPAP filter to their order. In the past, you may have had to call the office or check through all of your planned deliveries to make sure you had enough extra stock on the truck. With TIMS Delivery, you have access to stock levels and pricing, and the ability to record serial and lot numbers, update the order on-site, and re-calculate costs. There's no risk of having to head back to a restocking location to pick up a new ticket or load more product because you sold product promised to someone else.
Tools to Collect Payment at POS: With TIMS Delivery, the point of delivery can become the point of sale. Drivers and technicians can collect credit card payments, print and email customer receipts (using Zebra® Bluetooth printers), and automatically upload a copy of that receipt to TIMS Imaging. Customers don't have to wait for a bill in the mail and you, the provider, know you're more likely to get paid if you're paid upon delivery.
A Paperless Environment: This one may be more of a convenience for the driver than the patient, but we think it's big enough to list here. No more missing delivery tickets or forgotten signature lines because everything can be handled electronically! Integrated forms and task lists ensure that the required information and signatures are collected. Plus, documents are automatically submitted into the TIMS system so the billing team can begin the claims submission process quickly, reducing DSO.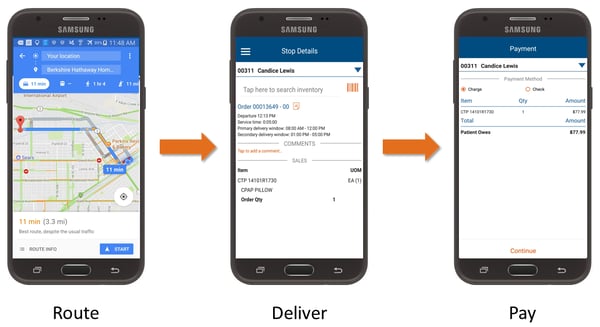 If you think your patients will appreciate a more streamlined delivery experience, with better accuracy and adaptability, now is the time to consider adding TIMS Delivery to your tool set. Want to learn more? Check out the rest of this series: Part 1 on reducing fleet, fuel, and overtime costs and Part 2 on how you can grow your business without hiring more staff. Plus, see the case study below.
HME Provider in the Western United States
Saves $4.9 Million After Implementing TIMS Delivery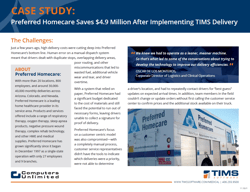 If you haven't checked out the TIMS Delivery case study yet ... why not? It's not every day we have the opportunity to show you all of the data behind how our tools have had such a big impact on one of our users. That's why we're so excited to share this first-hand experience with TIMS Delivery. Check it out today!
"The end result [of implementing TIMS Delivery] was a very functional proof of delivery and paperless solution, and we were blown away by it. We're still blown away by how comprehensive it is." — Oscar De Los Monteros, Corporate Director of Logistics and Clinical Operations.
Published by Computers Unlimited on 2018-12-12. Modified 2021-01-28.