Five Tips from HME Industry Leaders
Each year the TIMS Software Strategic Planning Committee meets to discuss the status of the HME industry, identify challenges and opportunities, and consider how TIMS Software can fill these needs. Their input not only inspires the development of software updates and new tools, but also guides our plans for Users Group to make it as valuable as possible to our users.
The Steering Committee is made up of some of our long-time TIMS users, and many of them also happen to be Users Group veterans. They're the true experts, so we asked them to share their top tips for getting the most out of your Users Group experience.
Tip 1: Prepare
Think about where your HME business stands today. What challenges do your team's subject matter experts face? What slows down your CSRs? Are you meeting your revenue goals? Is your reimbursement rate increasing and your denial rate decreasing? How many write-offs have you approved during the last quarter? In other words—where can you make improvements? And how can TIMS help you in these areas?
Now is the time to review the Users Group agenda and start thinking about what you want to gain from your time with the TIMS Software experts at Users Group. Think about what you need to learn, and write down your questions. A few days before you leave for Billings, download and review the session slides from the Community Portal to see if any more questions come to mind. Our long-time attendees say the more prepared you are, the more you'll take away from Users Group!
Tip 2: Prioritize
There's only one of you, and—unless you're hiding superhuman capabilities—you can only be in one place at a time. So, if you're excited to connect with a particular expert or hear more about a certain topic, plan for it! The agenda is already available, and now is a great time to check it out. Think about your goals for Users Group, and make sure you attend the sessions that fulfill your reasons for being there.
If you really can't choose between attending a session and spending your time in the Hands-On Room, consider the "divide and conquer" technique. If you're attending with a colleague, split up! If you're attending as a lone wolf, make a new friend and agree to compare notes at the end of the day.
"I have always attended for the interaction with other users, CU staff, and to learn about the current and planned offerings … I think the sessions that showcase current offerings, or ones that seek to get feedback to real world issues and how it relates to the software [are most valuable]." – Scott Eastman, Keene Medical
Tip 3: Connect
This is your opportunity to talk face-to-face with the TIMS Software experts. Many will be available throughout the day, and especially after their session if they're presenting. Plus, don't forget about our Hands-On Room (there's even a schedule in the back of the agenda—see who's available to talk about a particular topic and when). Or maybe it's a fellow attendee you're looking to reach out to. Nothing beats the real-world advice and collective wisdom of those who have been there before. Take advantage of the Community Forum to connect before and after Users Group.
Tip 4: Speak Up (Please?)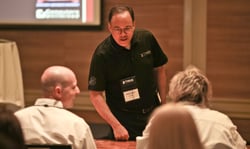 Don't be shy about questioning the speakers about items you're especially interested in or would like clarified. One of the biggest benefits of a more focused conference like Users Group is the opportunity to ask specific questions in the sessions you attend. In fact, by asking questions you may actually be doing the speaker a favor—they can tailor their comments to what you're most interested in and learn about your concerns, confusion, or pain points.
Tip 5: Enact
Once Users Group wraps up, we hope you will have gained a lot of new information, inspiration, and contacts. But don't let the benefits end there—now is the time to put what you've learned into action.
"Observing new software development and features sparks ideas and excitement for implementing changes and efficiencies when returning back home to the office." - JoAnn Arny, Hillrom
Actionable Takeaways:
Think about what you found particularly valuable. Did you hear about a product that would make life easier for your team? Schedule some time to talk with Gail or Courtney about add-on products and upgrades

.

Interested in continuing the conversation with your peers? Find and participate in our online forum.
Did you hear about a new or different way to accomplish your goals? Work with your internal team to decide what changes you need to implement to make to your internal processes and your business more efficient. Learn more about goal setting.>>
This article was originally written by Patty Harrison of Computers Unlimited. Published 2018-08-07. Modified 2019-08-12.