Meet the TIMS Software Specialists
No question is too big or too small—TIMS Software experts will be on-hand at Users Group to help. In addition to our regular sessions, we're making it easy to meet with the TIMS Software team at Users Group. There are two unique opportunities: drop in to discuss a specific topic in the Hands-On-Room, or plan to meet One-On-One with TIMS Software staff.
Hands-On Room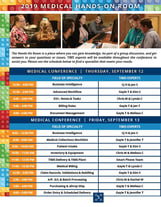 TIMS Software experts will be available at dedicated times throughout Users Group in the Hands-On Room. With work stations to offer demonstrations, they'll not only answer your questions, but also show you how it's done. From TIMS Business Intelligence to Advanced Workflow, Document Management, and more, we look forward to the valuable learning opportunities these meetings will bring. Be sure to review the Hands-On Room schedule, so you'll know when to stop by.
One-On-One Opportunities
For more in-depth questions, you may want to schedule a One-On-One meeting. You'll have the opportunity to make this request during the Users Group registration process. A TIMS Software team member will then contact you directly to set up a time that works for both of you. Note: If you plan to request a One-On-One session, please register no later than August 31.
In addition to our Hands-On Room and One-On-One opportunities, Users Group will continue to include traditional sessions with our team and other industry leaders. We'll also review how TIMS has evolved over the past year, and preview upcoming TIMS Software tools, like TIMS Scheduled Orders, a new application that would enroll a patient in a resupply subscription from the initial intake, pre-qualify upcoming scheduled resupply orders prior to their ship date, and automate the patient confirmation process. There's lots to talk about, and we look forward to seeing you there!
---
Users Group Registration and Agenda
Haven't registered for Users Group yet? Take advantage of our early bird rate. Visit the registration page for more information.

---
Hotel Accommodations
Stay onsite at the DoubleTree by Hilton, located conveniently in downtown Billings. Take advantage of our low conference room rate of $115 plus tax per night by booking your reservation using group code "CUG."

This article was originally written by Patty Harrison of Computers Unlimited. Published 2018-06-25. Modified 2019-06-14.