eDrop Shipping Can Make Your Team Speedier and Stronger
There's a growing trend among HME/DME providers that sell supply-type products: skipping in-house inventory management to drop ship products directly to customers. As an order fulfillment method that doesn't require a business to keep product in stock, drop shipping comes with benefits that gives providers the flexibility to get patients what they need, when they need it, with less financial risk.The benefits of drop shipping? You don't have to:
invest in pricey inventory upfront.
dedicate space in your storefront or warehouse for product.
oversee stock levels and order new products.
handle inbound shipments from your product vendor.
pick, pack, ship, or deliver your orders.
As an add-on component of the TIMS Software system, eDrop Ship makes drop shipping easy. You create and send purchase orders automatically to your vendor via EDI using TIMS Intake, Order Entry, or Scheduled Delivery. The electronic P/O will prompt the vendor to directly ship products to the customer, and you'll receive a confirmation or exception email. To close the loop, orders are updated in the TIMS Software system to reflect the quantities shipped and the shipping date once the EDI invoice has been received.
TIMS Software incorporates several features to improve the transparency and seamlessness of the ordering process. In particular, tracking numbers are sent from the vendor and uploaded into the TIMS system, where the information can be accessed through Customer Centric. In addition, in TIMS 7, HME/DME providers can put items tied to multiple vendors on the same TIMS order for added efficiency.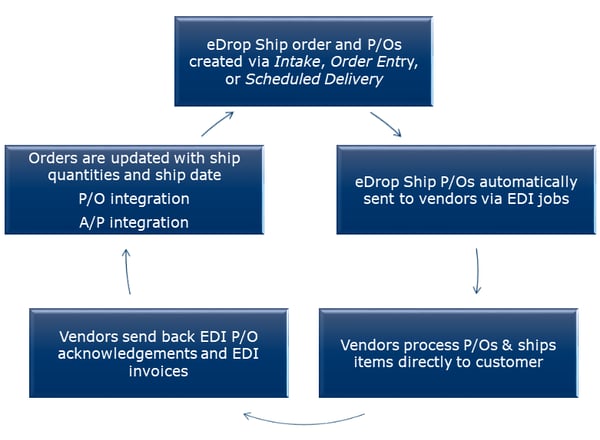 Our eDrop shipping partners continue to expand, giving TIMS Software users more choices than ever before. TIMS Software partners with:
Worry about taking care of your customers, not your inventory. Leave the logistics to a drop shipping partner and enjoy seamless integration with TIMS Software
eDrop Ship. Let us show you how!
This article was originally written by Vivek Mathew of Computers Unlimited. Published 2016-03-21. Modified 2018-02-19.