Q&A With Megan G: A Look at Billing and Collection in TIMS 7
Recently I spoke with Megan Goldammer, Development Product Owner for TIMS Software. As a product owner, she maintains a vision of TIMS Software and conveys that vision to the development teams. Megan's area of focus is billing and collection.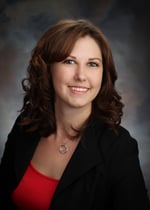 Q: What advantages does TIMS 7 give an HME business in the area of billing/collection?
A: Billing Rules and Fee Schedules have been completely rewritten to replace the old procedure code file from TIMS 6. In TIMS 7, you can upload fee schedules from an Excel spreadsheet, and set an allowable as a fixed amount, a percentage of retail or cost, and a percent of another fee schedule. There really is no excuse to not have accurate pricing in TIMS 7. Not only does this give you more accurate booked A/R, but now you can easily identify payers who are consistently paying you below your contracted rate.

Storing pricing, billing rules, usage limits, documents, and authorization requirements by HCPCS and payer set greatly reduces the number of records to maintain. You no longer need to add another procedure code record when adding new inventory, saving time and reducing the likelihood of incorrect setup.

There are additional billing rules available in TIMS 7 that are not in TIMS 6. A couple of examples are: marking that a supply HCPCS is included in the rental allowable (clears pricing on supplies while the equipment is renting), and an alert to the CSR when dispensing supplies if the agreement is on hold, so you are not dispensing product that you may not get paid for.
Q: Could you explain more about the automation of over-utilization narrative?
A: When dispensing more supplies than what the payer considers "usual utilization," you need to include the reason in claim narrative. For example, the physician prescribed more than what is considered usual, or you are dispensing a 90-day supply.
This programming will add that narrative when the claim quantity exceeds a specified amount by HCPCS and payer set, replacing the work of manually adding that narrative as an order comment or adding it to the claim. This automates what used to be a manual process, saving time and reducing error.
Q: Tell me about the Inventory-to-HCPCS redesign—what's new, and why were these changes made?
A: Prior to TIMS 7, Release 34, you had to maintain HCPCS billing variations at the item level. This is cumbersome to set up, as the billing manager has to re-add the same HCPCS modifier combos per payer over and over again for their different items of the same type. For example, a CPAP mask may bill five different ways (with different HCPCS or modifiers), depending on the payer. If I have 10 different mask items in my inventory, I have to add and maintain 50 different HCPCS and modifier combinations. Then if a payer requirement changes, I have to modify 10 records.
The redesign greatly reduces maintenance by letting you define the billing variations by HCPCS and pointing your items to the base HCPCS. You define how you bill a HCPCS for a purchase and rental, and point your item to that HCPCS.
Another area of improvement is setting up the item's Billing UOM. This is something that was easy to miss, since it was managed from a separate application. You can now add the item's Billing UOM multiplier from the same application with a few clicks.
Q: What is changing with defining authorization requirements?
A: Missing authorizations is one of the top preventable write-offs for many HME companies. As a result, we have seen a big push in the past few years for HME suppliers to get any required authorization upfront, prior to delivery. This is especially important when billing insurances that do not retro start the authorization's effective date. You can now set your authorization rule to require that the prior authorization be obtained prior to delivery by payer set or by HCPCS, reducing authorization related write-offs when it is time to bill.
Many insurance companies define their authorization requirements by a few product lines and by a set dollar amount. For example, they might require an authorization on electric beds, wheelchairs/scooters, and any other item greater than $750. As of TIMS 7, Release 33, you can set authorization requirements to mirror what that insurance company actually requires. You can define requirements by payer set as well as HCPCS and enter dollar threshold amounts by allowable, retail or MSRP, with separate thresholds for purchase and rentals.