Revenue Cycle Management: Perfect the Knowledge Transfer
Q: How can I use technology to shorten the learning curve for my CSRs?
A: Too often, I have seen providers rely on their own staff to transfer tribal knowledge using a mix of water-cooler talk or on-the-job training. The result is ill-informed personnel, costly mistakes, no documentation and reduced productivity. Technology can aid successful knowledge transfer with the effective use of deeply integrated rules engines. Well-maintained rules engines guide your CSRs through the intake process using narrow channels of choices based upon their sequential answers to detailed questions—one step building successfully to the next. Rules logic guides the CSR through each intake with a goal to minimize errors. The logic also flags questionable output for immediate review and potential correction.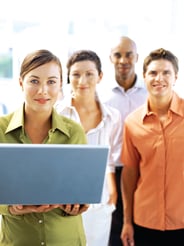 Through diligent review of output (payments, rejections or denials), you maintain the software and configure it to create alerts for missing documentation, notes about specific referrals or payer preferences, and tasks for follow up with reminders. All of your CSRs confidently work intakes knowing they have the most current information on hand. If a CSR has a question about a recent change, she asks for clarification and continues with her work. This type of knowledge transfer is known as just-in-time learning and has been demonstrated to increase not only employee engagement but also an employee's ownership over their own learning and job growth.
The factor that makes all of this possible is a software system with a robust rules engine that is easy to configure and maintain when mandates change. So, whether they are new or have been there for years, your CSRs do the right work at the right time.
Learn more about the benefits of 'just-in-time' learning.
---

---
This article was originally written by Dan Greyn of Computers Unlimited for the 2018 Smart Talk column in the HME News Magazine. Published 2018-01-25. Modified 2018-01-30.