Finding efficiency in your delivery operations can be difficult if you're not using the correct routing software. Expenses add up further when the collection of documentation requires a manual process. Minimizing driving distractions along with labor and delivery costs are quintessential for an effective dispatch of your inventory.
With TIMS Delivery, documentation, collection and delivery are made easy with one simple-to-use application. By automating the delivery process, the application is able to produce accurate data and fulfill orders in a quick, efficient manner. TIMS Delivery is completely integrated with our core TIMS system.
Delivery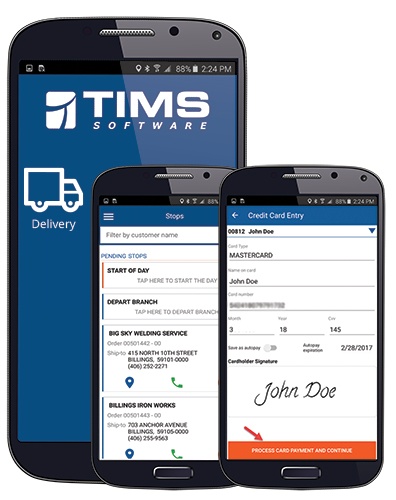 When there are costs associated with the dispatch of several drivers, the need to utilize the most economical routes is essential. An integration with Roadnet gives drivers turn-by-turn directions and optimal routes to maximize time and efficiency. Cost-effective routes will likely limit maintenance costs on vehicles that no longer spend needless time on the road. TeD also captures arrival and departure times to indicate the best time to deliver. Plus, the application can reschedule in case a customer is not home, so your driver can deliver at a later date and time.
Documentation
Handling and organizing multiple documents when delivering products can be a pain for drivers. That's why TIMS Delivery can capture the proper patient information and update delivery receipts and a patient's documents with the touch of a button. Once captured, the workflow state is advanced as tasks are optionally created upon delivery, rescheduled, or placed in QA review.
Collection
TIMS Delivery allows you to avoid the manual process of collecting and submitting payments. Simply apply credit card payments automatically with the device. Orders are updated in real-time, which also reduces the costs of the confirmation process.