It's always a good time to review your revenue cycle management strategy and consider opportunities
for improvement.
May we make a couple of suggestions?
Go Paperless With Digital Images
File cabinets are ugly. You deserve a more beautiful way to monitor all of your referral and patient documents. How about a high-visibility dashboard that shows you the status of everything that needs to be worked? You can monitor all of your documentation from a single place in our fully integrated software. Whether it's for Physician, Insurance, and/or Patient, it's all there.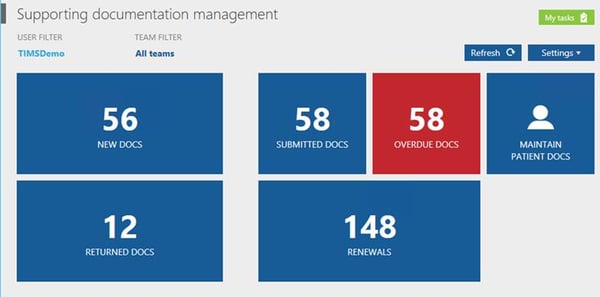 Here are some other tasks you can complete with TIMS Software:
Import forms and set up payer-specific requirements for coverage criteria qualification screens, documentation requirements, medical record requirements, and image annotation guidance—all for your document teams.

Design documentation with Microsoft® Word templates

Receive, annotate, and accept to ensure document validity

View images on demand when connected to Imaging

Store and search records faster. Digital storage makes it easier to access, track, and retrieve data, whether for claim processing or for audits. In a traditional scenario with paper records, there is a significant chance of misplacing or losing important items.
When your documents are digital, you can ensure regulatory compliance: Compliance is essential to business planning for long-term growth. Choosing electronic record keeping can help meet compliance requirements more easily, including ease of access. For small businesses looking for reliable help managing medical billing data, a HIPAA-compliant services provider can be very useful.
Digital records are encompassed by better security. They are safe from physical threats such as fire, water, and even lack of storage space. Access to information is authorized through passwords or other forms of regularly monitored digital recognition. When managed well, digital record-keeping also enables reliable backups, even in the face of crisis or unforeseen destructive events.
Mobilize Your Curbside & Delivery
Our smart apps can make your curbside customer-centric and "uberize" your HME/DME deliveries. From drivers to dispatch and customer service operators, back office staff, and others, there are a lot of people who support your delivery operations. A mobile solution, like TIMS Delivery, helps your team be more accurate and adaptable—and that can go a long way toward turning your patients into loyal, long-term customers.
Added benefits of going mobile:
Reduce DSO as orders are updated immediately in the TIMS system

Securely access patient information to verify address, delivery time, and note potential hazards at the delivery location (such

as airborne

, infectious, or blood borne diseases)

Better inventory control and quicker patient payments

Complete control over delivery costs

Accurately track assets

Collect vital patient information at the point of delivery
Want to learn more about our mobile apps? Check out this blog: Our Top Resources for Simpler, Easier, and Faster HME Delivery >>
Get Control Over Inventory Management
With TIMS Software you can conveniently manage and track rental and serial-tracked equipment from the same software you track all of your patient information. Additionally, you can easily view and create both inventory and customer-owned items.
Having too much inventory on-hand creates unnecessary expenses, and having too little inventory could lead to lost revenue. You need to be able to maintain supply levels at your warehouse and branch locations, and track the quantity on-hand, committed, purchased, and back ordered. Help your team stay on top of quantities with software that does physical counts, cycle counts, barcode tracking, automated purchasing, and P/O receiving.
Keene Medical Products
"Since starting with TIMS, we have more than doubled our revenue while cutting inventory costs by more than 60%."
If your inventory was under control, how else could you be spending your time?
Make Informed Decisions With Business Analytics & Reporting

We have a dedicated, USA-based team of reporting experts ready to help you report on your KPIs. Customers who use TIMS Software own their data 100%. We work with our customers everyday using our built-in reporting tools, or to build custom reports so metrics and goals can be trended over time and smart decisions made.

Also, we're currently developing a connector for Microsoft Power BI®.

Power Business Intelligence

is a

business analytics

service by

Microsoft

. It provides interactive

visualizations

and

business intelligence

capabilities with an interface simple enough for end users to create their own reports and dashboards.

When it comes to sales KPIs, no one can tell you exactly which ones are "best" for your company.

But with TIMS, you'll be able to report on what matters now, and what matters in the future.



Collect More Revenue
Nobody likes rejection. Create a variety of custom-defined, real-time, interactive worklists for your collections team to work A/R, denials, and timely filing. Eliminate report printing and work on a dynamic worklist on the spot. Configure the worklist according to your preferences and needs. Worklist rules are flexible, allowing you to recreate your current collection reports as worklists. Unlike working form a report, the worklist will pull real-time A/R, claim and denial information.
Pro Tip: Add a Reimbursement Business Partner to Your Team
From sophisticated front-end workflows preventing the intake of bad orders, to highly automated back-office systems for claims submission, cash posting and patient billing, our partners can help you explore tactics employed by highly successful HME providers to ensure a high payment rate and strong profitability.
We recommend contacting these partners:


---